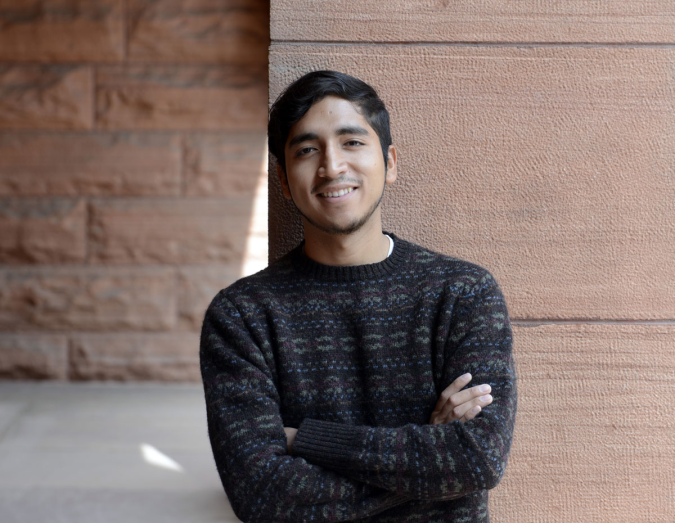 Colorado College first-year student Eyner Roman-Lopez of Lima, Peru, has been accepted into the internationally competitive 2016 Future Global Leaders (FGL) fellowship program. Roman-Lopez is one of only 20 fellows selected from a pool of 300 international applications.

Roman-Lopez joined the CC Class of 2019 as a graduate of the United World College of South East Asia in Singapore and is currently a Davis United World College Scholar at CC. He is studying math and studio art with the intent of becoming an architect, hoping to use design as a means of achieving social impact and reducing socio-economic inequalities.

The Future Global Leaders three-year fellowship, provided by the Future Leaders Foundation, offers mentorship from world renowned professionals, a three-week intensive leadership training in the Rocky Mountains, funding and support for an internship abroad, customized career advice and tools, and access to the Fortis Society upon completion of the fellowship. The aim of the Fortis Society is to bring more diversity to world leadership.

"I grew up in a small district in the outskirts of Lima," Roman-Lopez says. "When I was a kid, I helped my mother at the bookstore she owned before I went to school in the afternoon. She would tell me that the person who reads has the ability to go far in life." In 2010 he enrolled in the only public boarding school in Peru, and it was there he first experienced intercultural exchange. Two years later he won a scholarship to study in Singapore, where he interacted and learned with people from all over the world.

Roman-Lopez says the multicultural education at the boarding school and the international environment at UWC were beneficial. "They exposed me to complex and puzzling situations that showed me a wide picture as a young idealistic student. That motivated me to join the FGL fellowship; I want to keep expanding my access to global education."

Roman-Lopez will be joining young leaders representing 35 nationalities and excelling at college and universities in the United States, United Kingdom, France, Singapore, Hong Kong, China, and the United Arab Emirates. The foundations' admissions committee - comprised of leaders in the corporate and public sector - unanimously selected the final 20 FGL fellows based on their proven records of academic excellence, strength of character, leadership potential, and ambition.