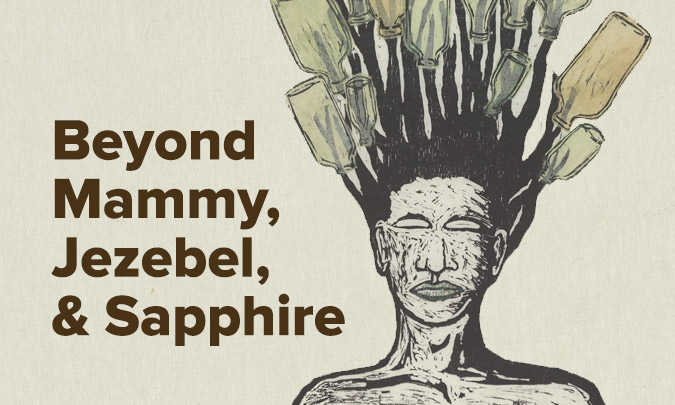 An exhibit currently on display at Louisiana's Alexandria Museum of Art titled "Beyond Mammy, Jezebel, & Sapphire: Reclaiming Images of Black Women" was co-curated by Jessica Hunter-Larsen '90, Colorado College's director of academic engagement and curator of interdisciplinary arts, and includes essays by four Colorado College faculty members. The exhibit recently received rave reviews in a Huffington Post article titled "Black Women Artists Tackle the Dangerous Stereotypes That Have Never Defined Them."
The exhibit, which will be on display at CC's InterDisciplinary Experimental Arts (IDEA) Space for almost eight weeks in the spring, beginning March 27 and running through May 16, seeks to deconstruct the limiting categorizations mainstream culture allows black women. The artists reveal the shoddy nature of the stereotypes in favor of challenging, poetic, and thorough visualizations of black culture ― the myth, the archetype, the self-portrait, and beyond.
Colorado College faculty members who contributed essays are Heidi R. Lewis, assistant professor and associate director of Feminist and Gender Studies, author of "Who Will Sing a Black Girl's Song? A Case for Black Feminist and Womanist Exhibit Engagement"; Claire Oberon Garcia, professor of English and director of Race, Ethnicity and Migration Studies, author of "African American Women Artists' Magical Truths"; and Kate Leonard, professor of art, and Jean Gumpper, lecturer in art, co-authors of "Poetry of Process."

"This exhibition has presented a wonderful opportunity to share the work of a dynamic group of artists," says Hunter-Larsen. "I am particularly thrilled by the accompanying publication, which features the contributions of an exciting group of scholars, artists, and writers. Together, the exhibition and publication provide multiple approaches to the issues surrounding representation."

Notes the Huffington Post review, "Despite the monolithic representations that appear so often in TV series, advertisements, films and the imaginations of those who digest them, artists have long worked to provide images that speak to the depth and sweet fallibility of all human beings ― black women included."

The Schnitzer Foundation, home of the collection of prints from which the show was curated, is producing the exhibition catalogue, which will be available at the IDEA Space exhibition, says Hunter-Larsen. For a preview of the catalogue scholarship, Lewis's article, "Who Will Sing a Black Girl's Song? A Case for Black Feminist and Womanist Exhibit Engagement," is published in The Feminist Wire.
The IDEA Space, located in the Edith Kinney Gaylord Cornerstone Arts Center, 825 N. Cascade Ave., is open 1-6 p.m. Monday-Friday and 1-5 p.m. Saturdays; closed holidays and CC block breaks.