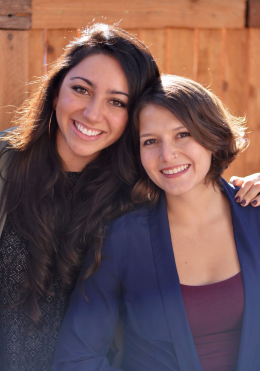 By Laurie Laker '12
Mitra Ghaffari '17 and Evyn Papworth '18 have been named Davis Projects for Peace grant recipients for 2018. They plan to use the $10,000 grant to develop an outdoor community center in Los Pocitos, a community of about 4,000 people, near Havana, Cuba. Their joint proposal addresses issues of marginalization and socioeconomic disparity across the community, working in collaboration with the leaders of Akokán, a local initiative for social change, to construct an outdoor community center at the heart of the community.
With an aim to foster peace through creative and cultural exchange, the outdoor community center in Los Pocitos will be comprised of a classroom, amphitheater, and garden. The infrastructural development for each component will be sourced from within the community, from material production to on-site construction. In conjunction with the construction of each framework, Papworth and Ghaffari will lead youth workshops to produce artistic elements centered on communal identity and empowerment as further additions to each structure. The goals of the space are to centralize and strengthen community participation, develop and expand educational workshops for youth, and systematize restorative actions through sustainable community-engagement projects.
Papworth, a political science major from Fort Collins, Colorado, and Ghaffari, an independently designed major who focused on intercultural communication from Boulder, Colorado, met in Cuba in the spring of 2017.
"Before getting to Cuba, I studied in Salvador, Brazil, for a semester and worked in Rio de Janeiro two different periods of three months," says Ghaffari.
"I met Professor Michael Sanchez Torres during my studies at the University of Havana, who introduced me to the Akokán initiative and gave me the opportunity to lead the first Akokán workshops, offering Visual Narrative and Photography workshops to children and young adults over the course of seven months," she says.
Supporting her time in Cuba, Ghaffari received a Keller Venture Grant to help fund the art workshops and various restorative projects, incorporating the other CC students studying abroad in Havana, including Papworth, into the community work. They've been connected to the community in Havana and project collaborators ever since.
Eager to continue their relationship with Los Pocitos, on the outskirts of Havana, Papworth and Ghaffari explored ways to further engage with the community in meaningful ways.
"Two people (Eva McKinsey '17 and Lucy Marshall '17) in Cuba with us had received their own Davis nomination for their projects in Peru while we were there," says Ghaffari. "They told us about the proposal and application process, which was hugely helpful when we were planning the project."
Now in its 11th year, the Davis Projects for Peace program invites undergraduates at American colleges and universities in the Davis United World College Scholars Program to design grassroots projects, with an objective to encourage and support motivated youth to create and try out their ideas for building peace.
"The grant writing process was tedious, but so, so rewarding," explains Papworth. "Going through a trial presentation, multiple drafts, it really helped hone and refine our vision for the project."
"The Davis structure is very open, but it's a shorter-term project - only three months long - so sustainability beyond those few months is a huge component of our plan," adds Ghaffari. "Partnering with existing organizations and synthesizing our vision, spending that $10,000 in a way that so much more can be done beyond the three-month window - that's vital for us."
Leveraging their relationships with study abroad organizations Institute for Study Abroad-Butler and Council on International Educational Exchange, Papworth and Ghaffari aim to aid the maintenance and use of the community space for years to come, creating opportunities for other students to help with youth workshops and restoration projects. Community support for the initiative is a fundamental, central part of the project's success.
"Employing community members to work on the center with that grant money, that goes a long way to hopefully creating pride and accountability in the work and the center itself. We've collaborated with local government delegates who're supportive of the work, and we want this to be as positive as possible for all communities involved," says Papworth.
"We're conscious of our presence in the community as Americans, particularly given the history between the U.S. and Cuba, so we're trying to head off issues as early as possible," she adds.
"Not many foreigners have the opportunity to work directly with Cubans, and this project would not be possible without ongoing involvement from the community and Akokán project coordinators," says Ghaffari. "We want this to be a launching pad for U.S. and Cuban collaborations in the future, and collaboration of this sort is vital to ensure continued service, exposure, and engagement with communities that wouldn't otherwise be able to."