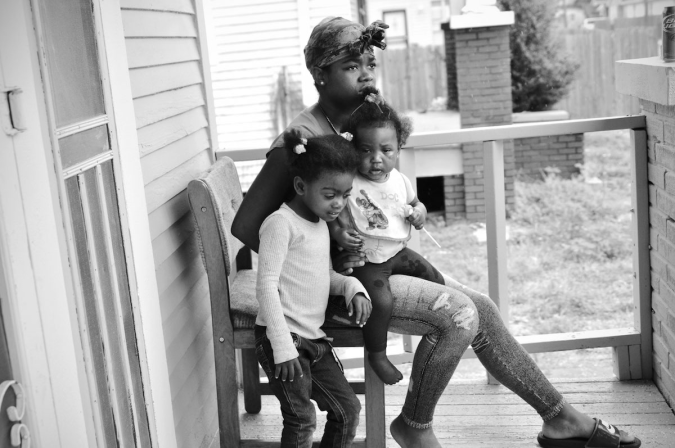 A photograph by Esther Chan '16 has been selected for publication in The Best of College and High School Photography 2014. Chan's black and white photo was selected as a finalist from a field of more than 16,600 photos from around the world.

Chan, of Los Angeles, who is designing her own interdisciplinary major titled Visual Media and Social Change, snapped the photo during an Alternative Spring Break Trip to New Orleans in 2013. The trip was organized by BreakOut, a student-led, student-organized club that coordinates service trips during weekends, Block Breaks, and Spring Break. While in New Orleans, the students repaired and built houses for those affected by Hurricane Katrina.

"I was repairing a house next door and a few curious kids came over to say hi. Dejanae, standing beside her mom in the picture, introduced us and as I was saying good-bye, I snapped a quick picture of her looking out into the street," Chan said. "Her eyes captivated me - they were full of emotion and I got a glimpse into what it was like to live during the recovery and rebuilding of the Lower Ninth Ward."

Chan frequently photographs campus events and student activities, and takes photos for CC's Instagram. She is co-president of the flash photography club, and a staff photographer for The Catalyst. Varsity Outreach recently analyzed data from more than 500 higher-ed Facebook pages to identify trends, best practices, and top examples of engaging posts, and their report included a mention of Colorado College and a "postcard-worthy" photo of the campus, taken by Chan.