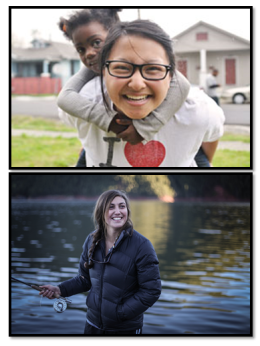 Sociology majors Esther Chan'16 and Veronica Spann'15 have been keeping very busy with their involvement in the Colorado College photography world!
Esther discovered photography during high school with a little digital camera. She would go into her backyard and pretend to be a wilderness explorer and get close to bees to capture macro shots. For Esther, Photography started as a hobby, when she joined high school Yearbook and it became her life. Esther photographs campus at events and student activities, takes photos for CC's Instagram, catches any beautiful scenery on campus, "which there is a lot of!" She also is the Co-President for the Flash Photography Club, and a staff photographer for The Catalyst.
"I think photography gave me a different way to look at the world and as cliché as it sounds, my world has become an art form. I think the process of taking pictures as well as the finished picture in itself has the ability to do some good for the world in whatever shape and form. It's a complex yet simple way of storytelling where a place, emotion, person, or object jumps off a page and resonates with its audience. In relation to sociology, I think photography is a median between society/the world around us and our own individuality. We're able to interact with this huge world and make it our own." - Esther
~~~~~~~~~~~~~~~~~~~~~~~~~~~~~~~~~~~~~~
Veronica has been passionate about photography for as long as she can remember. She's worked in many facets of photography including portraiture for Lifetouch Studios, documentary photography for PBS and Great Museums, wedding photography, and photojournalism. Veronica used to work as a staff photographer for the Catalyst and has since been promoted to the Chief Photo Editor position. She also worked as a photographer for the Athletics department, photographing Intramural sports for their website. She has recently started a photography intern position with the Communications Department and joined the executive board of the Flash Photography Club. Above all of these photographic opportunities, Veronica loves to photograph my friends, my travels, my family, and my adventures.
"To me, photography is an art of observation. It's about making the ordinary extraordinary, or finding something interesting in ordinary places and situations. Photography is not so much about the things you see, but more about the way in which you see them. Much of sociology also focuses on this concept of finding interesting features, trends, and conditions in the ordinary. Sociology looks at the society we feel familiar with and illuminates fascinating aspects in the way photography illuminates ordinary. So, for me, practicing photography and studying sociology serves as the perfect marriage on my quest to find extraordinary in the ordinary." - Veronica