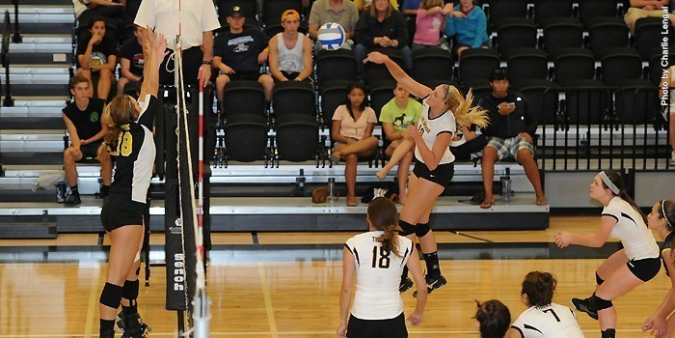 Sophomore outside hitter Lauren Hahn struck for a career-high 18 kills, but it wasn't enough to send Colorado College to the national quarterfinals of 2013 NCAA Division III Volleyball Championship.
In a battle of top-12 teams, seventh-ranked Emory University used its height and home-court advantage to record a 25-17, 19-25, 25-13, 25-14 victory over the Tigers in the regional final on Sunday afternoon.
"Sixty-three of the 64 teams that get into the NCAA Tournament end up losing their last match of the season," head coach Rick Swan said. "It doesn't feel very good and our kids are hurting right now. But I don't want today's loss to take away from the great season we had."
CC completed its 2013 campaign with a 35-5 record, the second most victories in a single season that was first set in 1983 and equaled for a second time in 2009. The Tigers also began the year with a school-record 17-match winning streak.
After dropping the first set, Colorado College showed its resolve and battled back to tie the match.
Hahn recorded seven kills on eight attacks, including three in a row to give the Tigers a 13-8 lead. CC expanded its advantage to six points on several occasions and never let the Eagles get closer than four before closing out the set on a kill by freshman middle hitter Kelli Sherwood.
Unfortunately, the momentum did not last into the third set. Emory raced to a 9-3 lead, and after a Colorado College timeout, stretched the advantage to 17-7.
The Eagles used a 6-1 run early in the fourth set to build a 15-6 lead and the Tigers were unable to put enough points together before time ran out.
Emory, which hit .355 as a team, was led by freshman middle hitter Jessica Holler, who connected for 16 kills on 23 swings without an error. Freshman opposite hitter Sarah Maher hit .471 with 10 kills on 17 attacks.
"Emory played an unbelievable match," Swan said. "They're tall and they use their height to their advantage. They are well coached and they don't make a lot of mistakes.
"We may have been a little tentative to start the match and it showed. We wanted to be aggressive, but in the third and fourth sets, Emory took the attack to us."
Sophomore libero Sophie Merrifield led the Tigers with 16 digs and ran her school-record total to 726.
Freshman setter Rebecca Watson recorded 36 assists and added 10 digs, while freshman outside hitter Abbe Holtze came off the bench to record seven kills.
The Eagles, who improved to 33-4, will play Eastern University in the Elite 8.