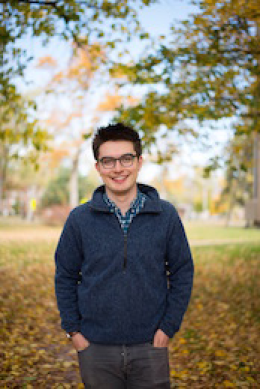 Elliot Mamet '15 has received a scholarship for graduate study from the Alpha Association of Colorado, the Denver-based association of the Phi Beta Kappa Society. In May, Elliot was elected to membership in Phi Beta Kappa, the nation's oldest honor society, after graduating magna cum laude with distinction in political science and a minor in social and political philosophy.
A Boettcher Scholar and a finalist for the Rhodes Scholarship, Elliot has been offered a place to attend Wolfson College, Oxford in Fall 2015 to read an MPhil in Politics: Political Theory.
At Colorado College, Elliot studied the history of political thought, writing his senior thesis on the political theory of Hannah Arendt under advisor Professor Timothy Fuller. Additionally, Elliot spent his junior year as a general course student at the London School of Economics.
Elliot is passionate about prison conditions and criminal justice policy. He has held internships at the ACLU of Colorado in Denver and at the ACLU National Prison Project in Washington, D.C. He also served as treasurer of the Howard League for Penal Reform at the London School of Economics, as founder of the Colorado College Prison Project, an organization dedicated to scholarship and activism around mass incarceration and, since January 2013, as a board member of the Colorado Springs ACLU Chapter.
The Alpha Association offers scholarships for graduate study to any Phi Beta Kappa initiate or member who resides in Colorado, is a graduate of a Colorado college or university, or is pursuing graduate study at a Colorado institution. Colorado College graduates who have won Alpha Assocation scholarships in recent years include Peter Heng '13, Mariko Fujita '12, James Hobbs '11, Jackie Danzig '10, and Caroline Alden '07.