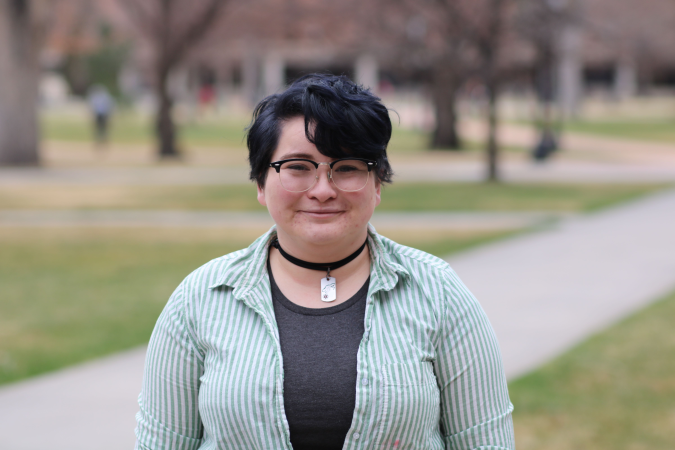 Some students enter college with an inkling of what they want to study, and Ella Axelrod '19 was no different: they had a sneaking suspicion of their interest in archaeology after participating on an archaeology field trip in eighth grade. At CC, Axelrod dove in head first, talking their way into Professor Ruth Van Dyke's archaeology class right after finishing their FYE, a 300-level class that took place in Castroville, Texas, north of San Antonio. The class sought to find signs of early Alsacean settlements, built by Henri Castro and the French people he brought to the area in the mid 1840's.
"This was a hard crash-course in archaeology for me," describes Axelrod, only a first-year student at the time. "It was physically demanding, [with days spent] often crouched down, carefully removing layer by layer of dirt to look at features, hauling wheelbarrows for five-gallon buckets to screening stations, and sifting through the dirt for artifacts." Despite the intensity of the class, Axelrod confirmed their love of archaeology and has been studying anthropology with an emphasis in archaeology ever since.
The following summer, Axelrod took a class in their home state of Hawaii at the University of Hawaii West Oahu, working with a team to help uncover a World War II prisoner of war and citizen internment camp in western central Oahu. This dig was no easy feat either. Axelrod describes searching beneath vegetation for concrete left from the camp and the high temperatures: "The valley we were working in was literally nicknamed 'Jigoku Dani' or 'Hell Valley' by the Japanese-American citizens who were imprisoned there." When people think of archaeology they often imagine unearthing dinosaur bones and forgotten civilizations; Axelrod proves that we have much to discover about even recent events .According to them, "going back and finding such difficulty in reconstructing something that seems like it should be recent, memorable history was significant and really highlighted to me how much we don't know about the history in our own backyard."
The emotional and historical significance of this work was highlighted on the trip one lunch break. As Axelrod describes, "after a few days of surveying, while breaking for lunch on a hilltop, we noticed three flowering trees planted in a straight line, about on the border of the civilian side of the camp. Over 70 years ago, some unknown prisoner her probably planted those as an attempt to improve their living conditions in the almost shadeless, sweltering Valle. For me, it highlighted the lasting impact we have on our environment and the archaeological record and the human aspect of what happened over there."
Axelrod's next excavation would take them to the opposite side of the world from Hawaii, to Buysscheure, France. Over the course of the summers of 2016 and 2017, Axelrod would work as the youngest member and only undergraduate on a team of archaeologists set to find and recover the remains of Frank Fazekas, a pilot who was shot down in 1944. Just as labor intensive as their previous expedition, Axelrod describes their time in France: "I spent the majority of my first visit to France in a 15-foot deep, muddy hole pulling out countless twisted hunks of metal that used to be a plan and hoping to find remains of the pilot, a man not much older than myself." The task was as steeped in meaning as the dig in Hawaii: To bring a man's remains home to his family. After two summers, many hours, befriending the older couple across the street who didn't speak English, and some rain that turned the dirt to mud, their hard work paid off. "Being there while we scrubbed 72-years' worth of dirt off of what used to be wing-mounted machine guns and finally having confirmation that we found what we were looking for was like watching the puzzle pieces click into place." Further digging eventually revealed Fazekas's remains, which were removed and returned to his family.
Axelrod's most recent archaeological endeavor took them to the Rio Grande National Forest in Colorado near CC's Baca Campus during Block 2. Professor Scott Ingram, of whom Axelrod "cannot speak highly enough," taught the CC class titled Field Archaeology, which worked with the National Forest Service to survey a potential part of the Old Spanish Trail. One of the highlights of the trip according to Axelrod was "finding the manor and metates, which are artifacts associated with food processing that, potentially, hand't been touched by another human in hundreds of years and were just lying on the ground." Axelrod goes on, "Holding the traces of people who lived here before any of us was an immensely humbling experience."
Needless to say, this won't be their last dig. Continuing their pattern of hard work and determination, Axelrod plans to continue pursuing their archaeological career at Colorado College and beyond.
By Alana Aamodt '18