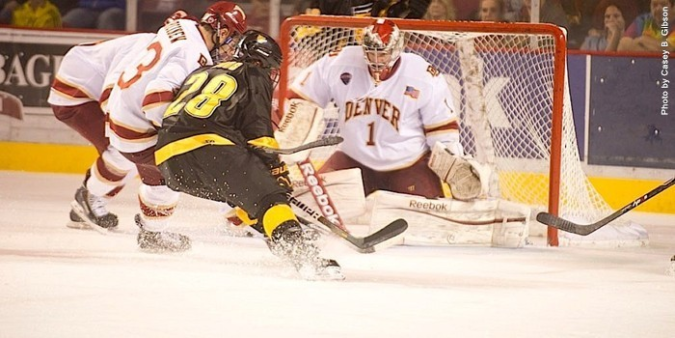 While Colorado College arguably played its best game of the season on Saturday, the puck just would not cooperate.
The Tigers out-shot the University of Denver, 40-24, in an exciting high-octane battle at DU's Magness Arena, only to give up a pair of power-play goals in the third period that resulted in a 2-1 defeat.
They hit at least two pipes - a cross bar and an upright - behind Pioneers senior goalie Sam Brittain, and with even the slightest bit of luck could have celebrated a big victory on the road. Instead it was arch-rival Denver that picked up three more points in the National Collegiate Hockey Conference standings.
While DU clicked twice with the man advantage, the Tigers finally broke a long dry spell when freshman winger Alex Roos also converted on a power play with 3:09 left in the contest.
And, with senior netminder Josh Thorimbert on the bench in favor of a sixth attacker in the final two minutes, CC applied plenty of pressure but couldn't get anything else past Brittain.
"It's just amazing how few pucks are getting into the net," said head coach Scott Owens. "We've just got to keep making steps. Hopefully, when we do get a couple, we'll start getting a few more and that will give the guys some confidence.
"I liked our team tonight. We came into their (Denver's) building and played pretty well. I liked our 'compete' and I liked our 'battle.' But we're not getting rewarded with pucks going into the net."
Denver, which came up empty on its first two power plays of the night, clicked just seconds into the third one early in the final frame after winning a faceoff in the Colorado College end. Freshman defenseman Will Butcher, back in the lineup after serving a team-imposed suspension during Friday's 1-1 tie at the World Arena, fired a screen shot that passed through traffic and eluded Thorimbert at the 1:29 mark.
Junior winger Zac Larrazo struck for what proved to be the game winner at 7:04, knocking home a rebound out of the air after Thorimbert made the initial save on a shot by Nolan Zajac in the slot.
Roos' tally, set up by sophomore Cody Bradley and freshman Sam Rothstein, was his team-leading third of the season.
The Tigers, now 1-6-1 overall and 1-6-1-0 in the NCHC, are off until playing host to Air Force in a non-conference game Tuesday, Nov. 19. They now will need to beat DU twice in February to gain possession of the Gold Pan.