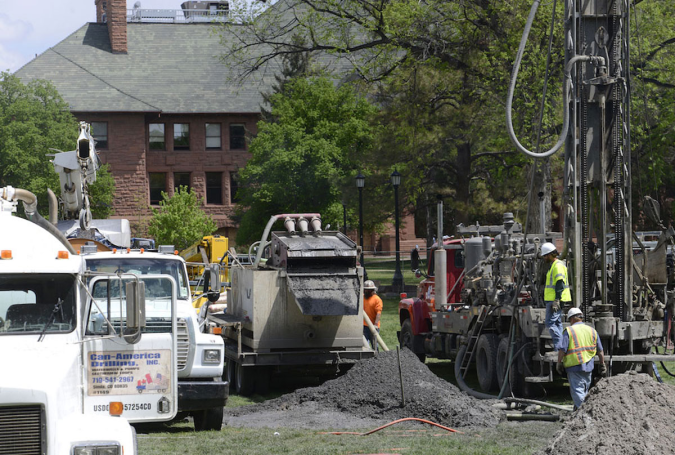 Construction crews are drilling 80 wells, each 400 feet deep and about five and a half inches wide, across Armstrong Quad. It's the start of the geothermal heating and cooling system for the new library, which is being built as a "net-zero" facility, meaning that on an annual basis the library will be carbon-free and produce enough electricity to operate itself.
When the installation is complete, each well will contain a loop of pipes that circulate water. The 80 underground wells will be arranged in a grid, functioning as a heat exchanger for the reversible geothermal heat pump that provides both heating and cooling for the library.

During warm weather, the system will send excess heat from the library through the pipes and into the grid, instead of rejecting the warm air outside. The water circulation of the geothermal system transfers and stores the heat underground. Then, during the winter, the process reverses and the heat stored underground will be pumped back up and used to heat the new library.

"This is very impressive because it's never been done in a building of this scale," says Ian Johnson, CC's director of sustainability. "It has to function 24/7 with the Block Plan in a library that's more than 90,000 square feet." He notes the geothermal heating system is highly efficient because it uses free energy from the earth. Additionally, carbon emissions, which contribute to climate change, are completely eliminated in the geothermal heating process.

The new "net-zero" library will not only reinforce CC's goal of being carbon-neutral by 2020, it also will be a model for future buildings on campus and serve as a study tool for students and scholars in related fields. "I'm very excited about this," Johnson says. "This is the coolest project I've worked on." The library renovation is part of CC's strategic plan.