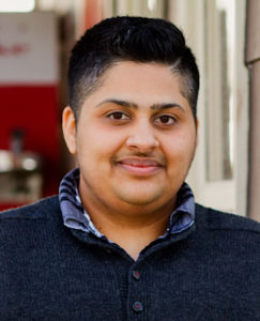 Feminist & Gender Studies welcomes Dr. Rushaan Kumar, who will be joining the faculty as Assistant Professor of LGBTQ Studies this fall!
Professor Kumar earned his Ph.D. in Feminist Studies from the University of Minnesota-Twin Cities, and has previously taught at the University of Minnesota, Carleton College, and Pomona. His intellectual work is focused on queer and transgender studies in India and the South Asian Diaspora, female masculinities, and facilitating conversations among academics, artists, and activists in the U.S. and transnationally.
Next year, Professor Kumar will be teaching LGBTQ Social Movements in the U.S. (Block 1), Introduction to Feminist & Gender Studies (Block 3), Introduction to Queer Studies (Block 4), Masculinities (Block 6), Senior Seminar with Professors Heidi R. Lewis and Nadia Guessous (Block 7), and Transnational Sexualities (Block 8).