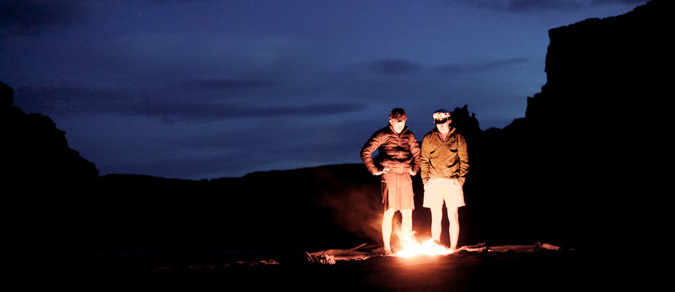 On June 15, 2012, four field researchers will start at the headwaters of the Colorado River in Rocky Mountain National Park and head downstream for two months. The objective of the project is to make the voices of various stakeholders and "river experts" heard, as well as providing a virtual tour of the Colorado River through narratives, photographs, videos, and scientific research.
The centerpiece of the expedition will be an interactive map of the Colorado River Basin. As they travel downstream the researchers will take videos and photographs, interview basin stakeholders, record water quality data, and record first-hand accounts of their experiences on the river. The accounts will be incorporated into the interactive map, allowing the public to experience the river alongside the researchers.
Throughout the expedition, researchers will measure dissolved oxygen, temperature, salinity, pH, nutrients, and turbidity three times a day, offering a finer resolution of data than is currently recorded at USGS gauging stations. Partnering with Marine Ventures and Below the Surface, a river conservation group, researchers will create an in-depth geographical overview of Colorado River basin. The project's findings will be made public upon completion.
The expedition will begin on June 15 at the headwaters of the upper Colorado River, on La Poudre Pass in Rocky Mountain National Park, Colorado. Researchers will hike, packraft, kayak, and raft for 50 days to Lee's Ferry, Arizona. The route will traverse the alpines of the Colorado Rockies, the whitewater of Gore Canyon and Barrel Springs, the surf waves of Glenwood Springs, the desert canyons of Westwater and Cataract, and the inland sea of Lake Powell.
A second phase of the expedition is planned for the fall and winter of 2012. Downstream of Lee's Ferry, researchers will continue by water to the U.S./Mexico border near Yuma, AZ. As the most degraded portion of the Colorado River, researchers will spend a week exploring the delta by foot and boat.
Full details of the expedition can be found at http://www.downthecolorado.org/.
About the State of the Rockies Project
The State of the Rockies Project is a student-faculty collaborative research initiative of Colorado College seeking to increase public understanding of vital issues affecting the Rockies. The Project team, including Colorado College undergraduate students, recent graduates and faculty advisers, conducts extensive research and creates a comprehensive report on the region. Findings are reported and published in the annual State of the Rockies Report Card. For more information, visit www.stateoftherockies.com.