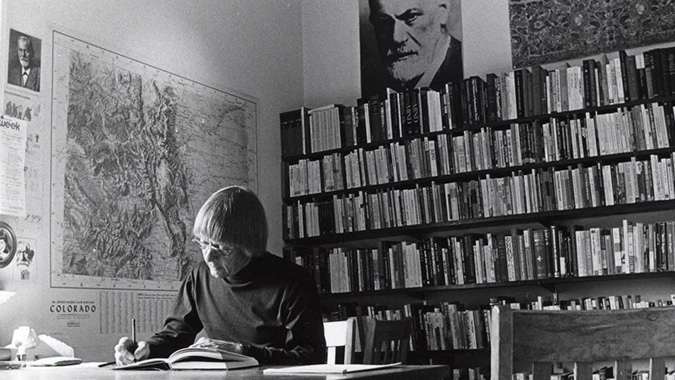 Douglas Freed, professor emeritus of psychology, died June 18 after a long battle with Alzheimer's disease. He was 83.
His friends and family remember a kind and thoughtful man who was energetic and animated in the classroom and whose wise counsel and measured words helped bring about the Block Plan. Until just a few years ago, he was a familiar figure in downtown coffee shops, where he sat, book in hand, reading and chatting with longtime friends and new acquaintances.
"For a number of us, and I felt this very strongly, Doug was the model of a scholar teacher," said Joe Pickle, professor emeritus of religion. "He read everything, he knew what he was reading, and connected it with wide-ranging thoughts."
Freed, who came to Colorado College in 1956 after earning a doctorate in clinical psychology at the University of Minnesota, was one of a handful of professors who loved teaching the Freedom and Authority class in the years before the college adopted the Block Plan in 1970.
At the time, only seniors took the seminar-style class, a model for the Block Plan with its student-driven discussions and minimal lectures. The course title is taken from its basic question: "What is the balance between individual freedom and religious, social, and political authority?" The questions that flowed in the class seemed tailor-made for Freed, who was deeply interested in the humanities: "Who am I? What do I believe, and why?"
Freed also was involved in the early thinking and planning for what is now the Master of Arts in Teaching program. Both experiences informed Freed as he became a persuasive voice in faculty deliberations about the Block Plan.
"He was a person who could talk with people who had questions and doubts," Pickle said. "Doug was a mediator, but not in any formal sense. That is who he was."
Often, those conversations took place at the Breakfast Club, an informal gathering of friends at the old Rastall dining hall in Bemis Hall and later at Benjamin's. Freed was a regular at the table where faculty and staff discussed ideas and issues over coffee and pancakes.
He was a dedicated teacher as well, and team-taught courses with many other professors in other disciplines, including the late sociology professor Eli Boderman; English professors John Simons, Dan Tynan, and the late Ruth Barton; German professor Dirk Baay; religion professor Sam Williams; classics professor Owen Cramer as well as his wife, Spanish professor Maria Daniels, among others.
"He was full of happiness and light and energy, bouncing around everywhere," said Lori Driscoll '94, associate professor and chair of the psychology department.
In "Psychoanalysis and Psychotherapy," one of two classes Driscoll took from Freed, she paid for her shyness and silence in class with a "B" although she diligently did the work. "He nailed me to the wall," she said, and it made her angry.
"He said, you don't really learn if you don't participate," she said. "So I decided to follow his rules. I found myself actually having to prepare each day. I was really nervous, but I actually learned a lot more."
The department recently commissioned Noah Gallo-Brown '13 to paint Freed's portrait, which will be hung in the department in his honor.
Freed's interest in higher education reform found a kindred spirit in the late 60s in Glenn Brooks, then a political science professor and now professor emeritus and dean emeritus. "He was a good, clear thinker," said Brooks, whose children Beth '80 and Amy '82 grew up with David and Casey Freed.
"We had a lot of common interests in the liberal arts, which is why we were at CC rather than a large university," Brooks said. The two team-taught a course, "Politics and Psychology."
Shortly after arriving at Colorado College in 1960, Brooks joined Freed to canvas Colorado Springs neighborhoods for the presidential campaign of John F. Kennedy.
Their walks continued over the years, fostering intense discussions as the two, often with their families, hiked in the Colorado mountains and in later years, explored the many trails in Colorado Springs. As novice hikers in the early 1960s, they first backpacked with a group of friends in Maroon Bells wilderness area near Aspen. Their families often camped together, the Freeds in a 1950 Chevrolet station wagon and the Brookses in a VW, always with the Freeds' dog Charlie, a testament to Doug Freed's love of dogs.
"He was far more knowledgeable than I was about things of nature," Brooks said. "He knew trees, all the different kinds of pine trees, plants, and so on. He was kind of our consultant."
In later years, as his memory trailed off, Freed's love of nature remained. He would sit on Brooks's patio, which has a good view of Pikes Peak, and peacefully watch hawks circling overhead.
About seven years ago, the two began taking hikes together more frequently. At first, they often talked about philosophy. A chance meeting with Mormon missionaries on the trail sparked an intense discussion between the two friends about faith and belief. Over the years, the topics became less complex, and "more about good times, companionship," Brooks said.
Even when his memory was going, Freed was able to chat with Brooks about their mutual experiences growing up in small towns, Brooks in Kerrville, Texas, and Freed in Willmar, Minn. "We'd have great conversations," Brooks said.
"We had a very pleasant point of comparison, small-town Minnesota and small-town Texas, what it was like being in a small town, the friends we had," Brooks said. "It was one real shared memory we could talk about."
"It was really a friendship that lasted," Brooks said. "We just continued to have good times together and adjust to the reality."
The grace and determination Freed showed in facing Alzheimer's came out consistently. He worked around what he wanted to say. "If he didn't have a word, he'd come up with an alternative," Brooks said. "He stayed curious to the very end."
Maria Daniels, professor emerita of Spanish and Freed's wife since 1984, said he had struggled with memory loss and later Alzheimer's, for about 10 years. "It took a lot of stamina," she said. He maintained his sweetness and good cheer throughout the illness, always working with his friends and family to cope.
He regularly biked to coffee shops downtown, where he often talked with men and women who were homeless. "He was so willing to keep listening to people," Daniels said, joking that he was their "unofficial therapist."
He also continued to work at the soup kitchen at Marian House well into his disease, sometimes getting lost along the way.
He was willing to try things, to go to socials planned by the Alzheimer's Association. He told Daniels, "'If that helps you help me, let's try." He went to day care and to a support group and continued to attend a long-standing book group with his wife, becoming quieter as the years went by but always seeming curious about what was being said. He and Daniels remained close friends with his ex-wife, Elaine Freed, who helped with his care. Elaine Freed retired in 1999 as Colorado College's associate vice president of development.
Besides Daniels and Elaine Freed, Douglas Freed is survived by sons Casey Freed and David Freed, both of Portland, Ore., and Maria's three brothers and their families.
A memorial service is planned for September in Shove Chapel. Gifts in his memory may be made to the Alzheimer's Association or Pikes Peak Hospice.