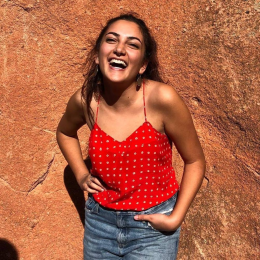 Feminist & Gender Studies is proud to announce that Dorsa Djalilzadeh (Feminist & Gender Studies and Political Science '18) was recently awarded fellowship at The Bell Policy Center through the Public Interest Fellowship Program (PIFP).
The mission of The Bell Policy Center is "to ensure economic mobility for every Coloradan" by "shifting demographics, growing inequality, lack of community investment, and technology's effect on how we work and learn. Through our research and advocacy, we provide policymakers, advocates, and the public with reliable resources to create a practical policy agenda that raises the economic floor, builds a diverse and thriving middle class, and sparks innovative ideas to prepare Colorado for the future." Dorsa will support the advancement of this mission by conducting policy research and analysis, working with coalitions and constituencies that collaborate with the Center, and assisting the Communications Director with the Center's social media presence.
Regarding the PIFP program at Colorado College, President Jill Tiefenthaler notes, "At Colorado College, we value active participation in our community and state, and the PIFP is one wonderful way to show our commitment to that value. This program is a win-win! Our students gain valuable experience and mentoring, while local non-profits get bright, talented, and energetic young people who I expect will make real contributions to their organizations."