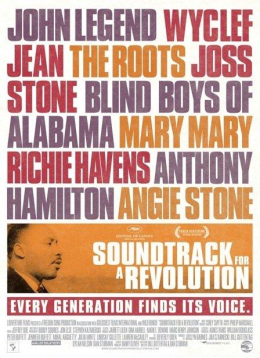 "Soundtrack for a Revolution," the documentary produced by Dylan Nelson, Colorado College's artist-in-residence for film studies, will air on Monday, May 9 on PBS's "American Experience."
The 82-minute documentary is the story of the American Civil Rights movement of the 1950s and '60s, told through the freedom songs protesters sang on picket lines, in meetings and in jails. As current singers perform songs from the era, interviews and archival footage evoke the movement's emotional history.
A companion to the PBS history series, "American Experience" includes features on a range of people and events in American history. Praised as the finest documentary series on television, "American Experience" brings to life the compelling stories from the past that inform our understanding of the world today.
In addition to the documentary's debut on "American Experience," Nelson, along with the directors, will present the film at the Academy of Motion Picture Arts and Sciences on Wednesday, May 11, at its contemporary documentaries series. The program is a showcase for feature-length and short documentaries drawn from the Academy Award nominations, including the winners, as well as other important and innovative films considered by the Academy that year.
Nelson, along with her husband, Clay Haskell, teach a variety of filmmaking classes, as well as the popular off-campus class, "On Location: Hollywood."