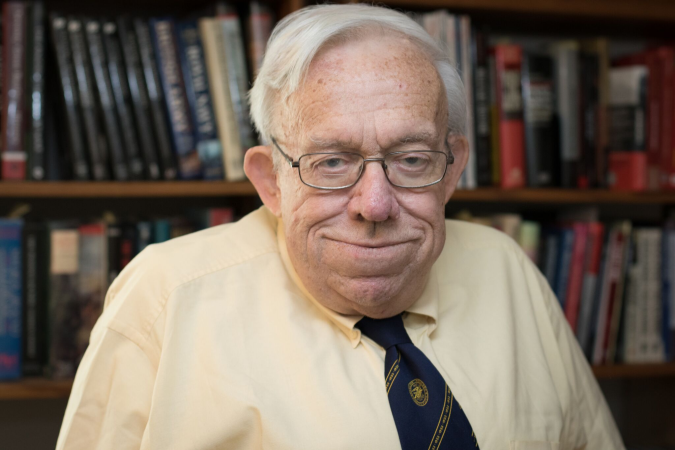 Colorado College Professor Emeritus of History Dennis Showalter has been named the recipient of the Pritzker Military Museum and Library Literature Award for Lifetime Achievement in Military Writing.
The Pritzker Literature Award - which includes a gold medallion, citation, and $100,000 honorarium - recognizes and honors the contributions of a living author for a body of work dedicated to enriching the understanding of military history and affairs.
Showalter, the 12th recipient of the award, joined Colorado College on Sept. 1, 1969, and will retire on June 30.
Jennifer N. Pritzker, the founder and chair of the Pritzker Military Museum and Library and a retired colonel in the Illinois National Guard, will present Showalter with the award at the organization's annual Liberty Gala in Chicago this fall.
"It's a great honor to accept the 2018 Pritzker Literature Award. For the historical profession it is a combination of an Oscar and a Pulitzer and I think it's a good deal more fun than either," says Showalter. "No one who wins this award does it alone. We stand on the shoulders of the men and women of our profession, our colleagues, and above all the students…The importance of teaching history at military academies and advanced institutions is that the tendency of these institutions is to go toward engineering, technical subjects, and to be focused on specific strategic problems. Military history itself is as vital to the military education institutions as oxygen.​"
Showalter has gained recognition for his research demonstrating the interrelationship between the military and civil society. He is the author of more than 16 major publications, including "Tannenberg: Clash of Empires," "Patton and Rommel: Men of War in the 20th Century," "Armor and Blood: Kursk, 1943," "Frederick the Great: A Military History," "The Wars of German Unification," and "Instrument of War: The German Army 1914-18." His latest book, to be published in September, is "The German Failure in Belgium, August 1914," with Joseph P. Robinson and Janet A. Robinson.
Showalter is a former president, vice president, and trustee of the Society for Military History. He has served as editor or editor- in-chief for a variety of military history journals and book series, including "Oxford Bibliographies: Military History." Showalter is a recipient of the Samuel Eliot Morrison Achievement Award from the Society for Military History and the American Historical Association Paul Birdsall Prize.
The Pritzker Literature Award is sponsored by the Pritzker Military Foundation.