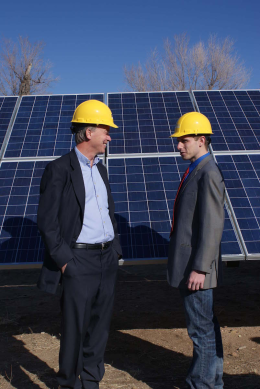 David Amster-Olszewski '09 is founder and president of SunShare, a start-up company that has contracted with Colorado Springs Utilities and Pikes Peak Community Foundation to develop the Colorado Springs Community Solar Garden, the first public-private partnership of its kind in the nation.
Amster-Olszewski '09 was joined by Colorado Gov. John Hickenlooper and local dignitaries at the groundbreaking of the 2,500-panel solar array at Venetucci Farm on Tuesday, Nov. 29. "The community solar garden allows citizens to participate in solar, without the average $25,000 upfront cost of a set of panels on their own roof," Amster-Olszewski said. The panels are available for lease to all customers of Colorado Springs Utilities. The power produced is sent directly to Colorado Springs' power grid and credited to the customer's monthly electric bill.

The 24-year-old Amster-Olszewski is no stranger to the installation of solar panels. In 2008, he galvanized CC students and donors, raising $110,000 in a week to install the first solar electric system at Colorado College. The process began in April, and the deadline for generating power was May 14. "I knew we were on an extremely tight deadline, Block-Plan style," he said. He met the deadline, and the 25-kilowatt system installed on the south-facing roof of the Edith Gaylord House was a focal point of commencement that year.
Amster-Olszewski recently left a job at a solar company in Silicon Valley, Calif., to return to Colorado and start SunShare. Less than two weeks ago, SunShare moved out of Amster-Olszewski's living room and into a new office downtown, ending the first phase of its start-up life.