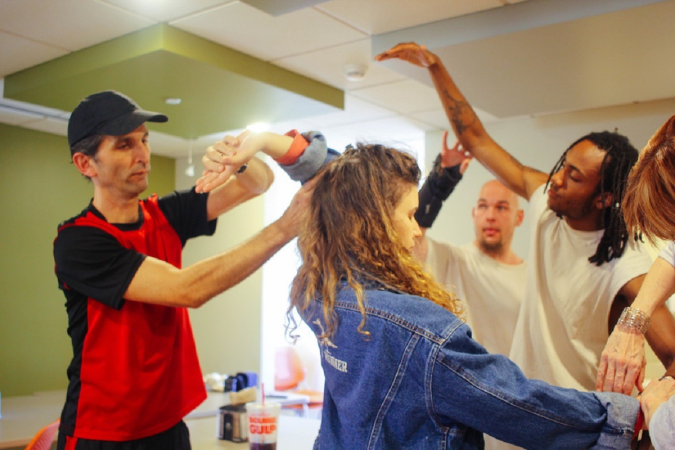 The BrainCare participants stand facing the CC dance students, each assigned a role. Some have their eyes open; those with their eyes closed are being led by their partners in a movement exercise in a community room at BrainCare, a Colorado Springs facility that provides support for individuals with acquired or traumatic brain injury.
"Go slowly with continuous movement," says Colorado College Dance Professor Shawn Womack, who is leading the workshop. "It doesn't have to look a certain way; just experience being together."
After a few minutes, the partners switch roles, with those who were leading now following. "Who is taking care of whom and who is being cared for?" Womack asks quietly, as the pairs - those guiding and those being guided - move hesitantly around the room. As the exercise ends, she notes, "A gift was given and a gift received."
The workshop, which features unlikely participants - Colorado College students and individuals recovering from traumatic brain injuries - explores the various aspects of caregiving: care giving and care taking, care managing and care receiving, and the fundamental difference between "care" and "tending." After the exercise, one BrainCare participant observes, "You can pay people to attend to you, but you can't pay people to care for you." Adds another, "When you're giving trust you have to do it willingly. When you're receiving care you have to accept it."
In the previous week's workshop, CC students and BrainCare participants explored what is left behind and what is gained following a traumatic brain injury. People with limited mobility tend to look to dancers as experts, as being extremely capable, Womack says. At the beginning of each session, which started in December and runs through February, the students and BrainCare participants sit in a semi-circle and talk about the issues common to both their situations. Among those are care giving and receiving, a sense of loss, the acceptance of limitations, and the importance of discipline in achieving one's goals.

Many of those themes will be explored in "Never Not Falling," a piece choreographed by Womack and performed by seven CC students and Paul Ashby, a BrainCare participant who says, "I'm nervous, but excited about doing this. I hope I can remember everything." The segment is part of the "DanSix: Mobilities" performance, running March 9-11 at 7:30 p.m. in the Kathryn Mohrman Theatre on the Colorado College campus. The title of the piece is intentional, Womack says, noting that "never not falling" is heard differently than "always falling." One has to pause and think through what "never not falling" means, says Womack.
Womack became interested in the intersection of traumatic brain injury, movement, and dance after her younger sister was diagnosed with a degenerative brain disease and Womack became her caregiver. Her sister moved in with Womack last summer. "Caring for her has changed me and changed the way I think about mobility," Womack says. Losing mobility is something all dancers face as they age, but a traumatic brain injury accelerates the loss of mobility. Womack is looking at the issue through two lenses: hers and her sister's, professional and personal, and the choreography is informed by these experiences.
The students participating in the project signed on for various reasons. Trevon Newmann '18, one of only two participants who is a dance major, says, "I was interested because I have never met anyone with a brain injury. Brain care and dance is a connection I haven't seen or experienced before. I was just curious, because I do believe that dance is for everyone no matter the physical abilities or limitations. I think dance can be used for relationship building, communal healing, and self-reflection. This is what we do in the workshop. We have a dialogue with words and movement."
Education major and dance minor Natalie Cuadrado '19 says she joined the project because she has been interested in neuroscience for a long time. "I was interested in seeing connections between dance and the brain, especially in cases of trauma. I love having the opportunity to connect my interests of dance, neuroscience, and education all into one project. In my time spent with patients at BrainCare, I have been able to witness how movement can be not only a way of expression, but also a way of connecting people, despite differences and barriers. It has been such a unique experience to get outside of the CC community and do something larger, while still being able to bring back what we have learned and perform on campus."

Sonya Padden '19, who plans to major in sociology, says she was interested in the project because her grandmother, who passed away a few years ago, had Alzheimer's. "I didn't really deal with it when it happened," she says. "I just felt sad; it was a weight in our family."
Padden is excited about the upcoming performance because it's "a processed-based performance. It's about the process of understanding this. It's not a visual truth, it's a feeling truth." Rather than being highly polished and tightly choreographed, she says the performance seeks to be "as genuine as possible." There is a special power of the arts that breaks down boundaries as to who gets to participate in art, she says.
"I think this performance goes beyond entertainment," Womack says. "It looks at the physical process, it questions, confronts, and connects." Womack says the piece has three major components: it comes from a place of empathy, it looks at questions of control, and it examines issues of transparency and honesty.
Colorado Public Radio interviewed Womack and Ashby in a recent piece titled "What Happens When People with Brain Injuries and Colorado College Students Dance Together."
Womack has been consulting with Ryan Platt, CC associate professor of performance studies, on the cultural representations of disabilities in the dance performance. Additionally, several BrainCare participants will attend upcoming rehearsals to give their input. "We want their voices to be heard during the rehearsal process as well as in the performance," Womack says. "We want their feedback during the rehearsal process so their challenges, concerns, and words are fairly and accurately represented."