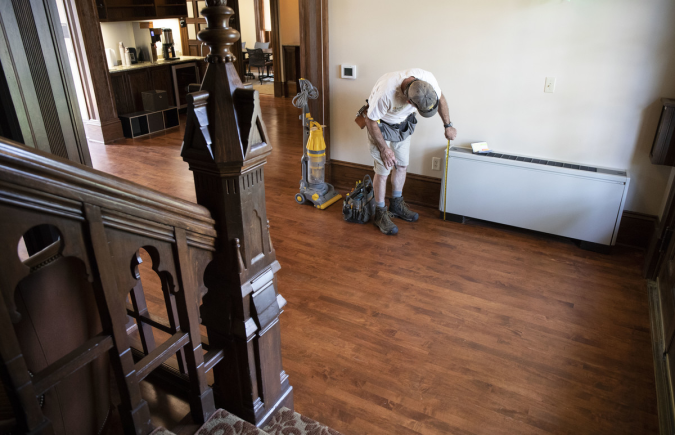 The Charge: A sense of place is becoming ever more important to the current and next generation of students as they balance virtual mobility with a deeper, more enduring awareness rooted in community and the immediate physical environment. As part of CC's identity and responsibility as the only liberal arts college in the Rocky Mountain West, the college is committed to working toward becoming a model of environmental stewardship and innovation by advancing both the study and the practice of sustainability.
What's Happening: This fall CC's oldest building, Cutler Hall, reopened after a four-month renovation. The comprehensive project included updating the building's HVAC system with high-performance variable refrigerant flow technology, including individual room temperature controls, added new office technology and audio-visual systems, expanded the main floor lobby space, created a 40-person upstairs meeting room, added accessibility systems to meet the needs of added second-floor activities, and expanded the number of staff offices and visitor meeting spaces.
The subtle facelift not only updated the utilities in the building; a new elevator, wider hallways, and other upgrades make Cutler Hall more accessible to those visiting the Office of Admission.
"There's a saying, 'you don't get a second chance to make a good first impression' and now we are even more proud to showcase CC's original building, Cutler Hall, to the thousands of prospective students who visit campus each year," says Vice President for Admission Mark Hatch. "There's more seating in the common areas, a beautiful presentation room, comfortable interview spaces to put students at ease, and state of the art technology that we hope will allow us to bring the college to prospective students near and far with videoconferencing."
Cutler Hall was last renovated in 2004 for fire and safety updates as well as historic preservation work.
To track improvements to its facilities, as well as other sustainability initiatives, CC participates in the national Association for the Advancement of Sustainability in Higher Education Sustainable Campus Index, a self-reporting system to highlight colleges' and universities' sustainability efforts. CC made a number of appearances in the recently published 2018 STARS report. The newly renovated Tutt Library was highlighted in the "Buildings" section of the report, saying the library is a "major contributor to the college's goal of carbon neutrality by 2020." CC's Director of Sustainability Ian Johnson highlights the significance of the report, saying "it is important to be in the know about what other schools are doing and to make sure that we remain leaders in our work." Learn more and read the full 2018 report.