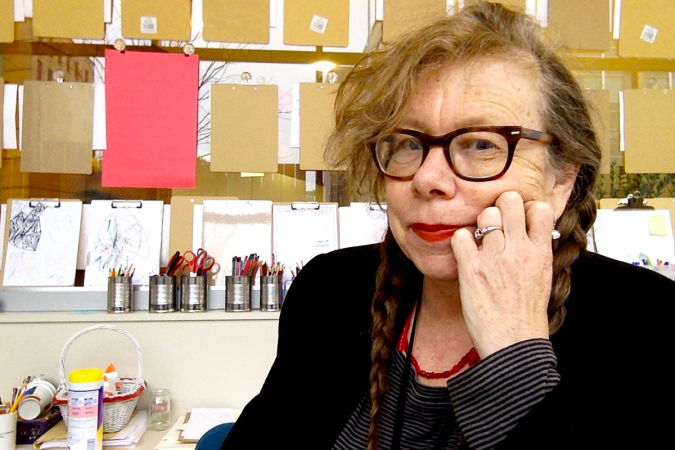 Colorado College's Cornerstone Arts Week 2018 kicks off Monday, Jan. 29 with a concert by a celebrated Inuit performer Tanya Tagaq and wraps up Saturday, Feb. 3 with the theatre production "The Man Who..." adapted from the book "The Man Who Mistook His Wife for a Hat."

In between are two keynote lectures and a series of talks, screenings, performances, and exhibits that examine this year's theme: "What is the Creative Brain?"

Robert Sapolsky, science and nature writer, biologist, neuroscientist, and stress expert, will discuss "The Biology of Human Creativity: Are Our Tools That Much Better Than Chimps?" at 7 p.m., Tuesday, Jan. 30.

Lynda Barry (photo above), who has worked as a painter, cartoonist, writer, illustrator, playwright, editor, commentator, and teacher (and finds they are very much alike), will discuss "What It Is" at 7 p.m., Thursday, Feb. 1.

The 2018 Cornerstone Arts Week also includes a Music at Midday performance; "The Creative Brain," a student installation curated by Nelson Kies '18 and Rachel Hyppolite '18; and a film, "Eternal Sunshine of the Spotless Mind," a romantic science fiction comedy-drama by Charlie Kaufman.

The Cornerstone Arts Initiative is a 17-year-old program in the creative arts departments of Colorado College that stresses collaborative interdisciplinary arts teaching linked by current and developing technologies.

This year's keynote speakers, Sapolsky and Barry, join a long line of renowned Cornerstone Arts Initiative speakers, including Camille Paglia, Sandra Bernhard, David Henry Hwang, Tony Kushner, Jane Krakowski, Toni Morrison, Amy Tan, Maz Jobrani, and Art Spiegelman.