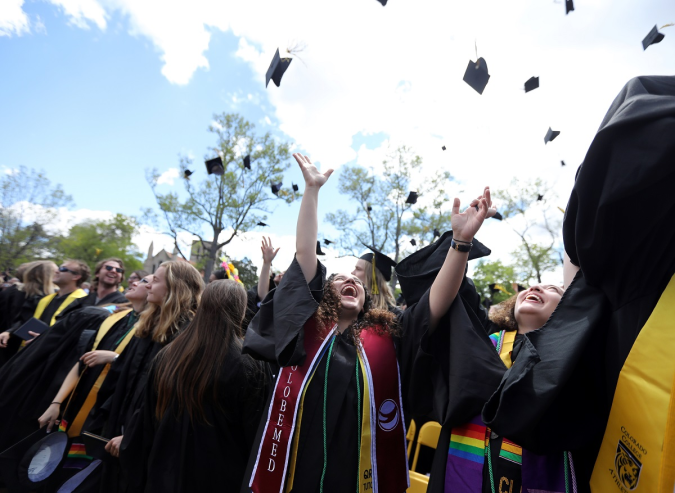 Colorado College held its 143rd Commencement ceremony outdoors on Monday, May 22, with a snow-capped Pikes Peak in the distance. The event this year honored CC's 566 Bachelor of Arts and 29 Master of Arts in Teaching (MAT) graduates.
The Class of 2017 chose as its motto a quote from Nelson Mandela: "There is no passion to be found playing small-in settling for a life that is less than the ones you are capable of living." Class members raised $7,549 for their senior gift, giving to a variety of areas important to them. With a 75.8 percent participation rate, class members designated gifts to a total of 36 different funds, ranging from the annual fund to crowdfunding projects to individual departments. The most popular designations were the annual fund, the CC Eco Fund, financial aid, and The Butler Center.
CC's inaugural Journalist-in-Residence, New York Times-bestselling author Hampton Sides, delivered the Commencement address, titled "A Heart That Watches and Receives." The title is a line from Wordsworth's poem, "The Tables Turned," and in his address Sides discussed concerns he, as a journalist and historian, has about what's been called "truth decay" in the country.

Sides noted that this trend, amplified by the Internet and social media, has come to infect multiple spheres of public life, and it gets to the heart of why the critical thinking that comes with a liberal arts education is essential to society. It also underscores how important it is to occasionally "unplug our lives and return to a wilderness of our choosing," removing oneself from the echo chambers of the Internet and a hyper-linked world, he says.
In addition to Sides, Colorado College President Jill Tiefenthaler presented honorary degrees to life trustee David van Diest "Van" Skilling '55, P'79, P'82, G'19 who has had a distinguished career in corporate management and co-taught the CC economics course Business Policy and Strategy from 1998-2014, and Brenda L. Bass '77, distinguished professor in the Department of Biochemistry at the University of Utah and known for her contributions in defining double-stranded RNA-mediated pathways.
Retiring Professors Emeriti Nathan Bower (Chemistry), John Simons (English), Frederick Tinsley (Mathematics), Barbara Whitten (Physics), and Tom Cronin (Political Science) also were honored at the ceremony.