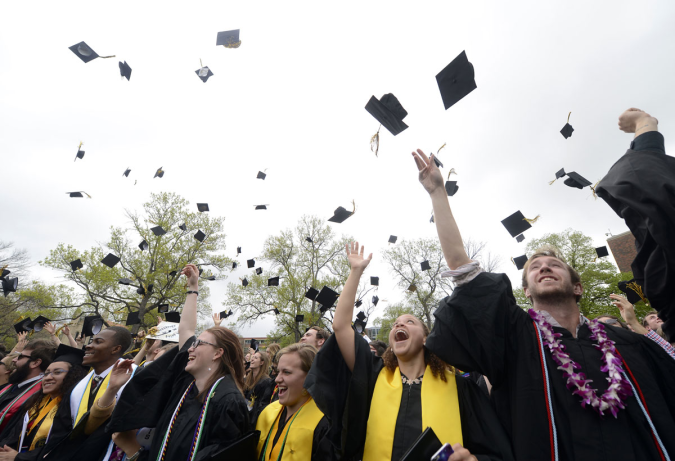 Colorado College celebrated its 142nd Commencement ceremony outdoors on Armstrong Quad on Monday, May 16, concluding just in time to beat the weather. The event this year honored CC's 569 bachelor of arts and 26 master of arts in teaching (MAT) graduates.
CC President Jill Tiefenthaler praised the Class of 2016 for their efforts to make the campus and the community stronger, and noted that their liberal arts education is the best preparation for work and life, as it will help them navigate diverse cultures and environments. She highlighted many of the accomplishments of the graduating class: addressing issues of diversity and inclusivity; leading difficult conversations on those topics; modeling community care; increasing awareness of homelessness, mental health issues, and eating disorders; and leading the way in sustainability issues, especially alternative transportation. "Not only have you made an imprint on the community, you have touched each other's lives," she said.
The Class of 2016 made a difference in other ways, too, setting a new record with 85.2 percent of the class contributing to the senior class gift, according to Kerry Brooke Steere, director of annual giving. The class directed its gift of $2,929 to one or more of the following areas at CC: financial aid, the annual fund, athletics, The Butler Center for Diversity and Inclusion, and the Office of Sustainability's EcoFund.
Eben Moulton '68, chair of the Board of Trustees, referred to Ernest Shackleton and his journey on the Endurance, and advised the graduates to strive for long-term goals and to seek to have their achievements rival the majesty of Pikes Peak's 14,110 feet.
Commencement keynote speaker Marcia McNutt '74, well-known for a series of "firsts" in the science community, spoke of living a life of integrity and one of true significance. McNutt, the first female editor-in-chief of Science in 2013 and soon-to-be first woman president of the National Academy of Sciences, told the audience that not all advice is created equal, and that one should weigh options and choices carefully - similar to the manner in which one considers which cards to keep and which to discard in a poker game.
In addition to McNutt, Shelby M.C. Davis, co-founder of the Davis United World College Scholars Program; Peter Natiello '82, 'P16, mission director for Colombia at the United States Agency for International Development (USAID); and Senga Nengudi Fittz, a nationally recognized Colorado Springs-based artist, were presented with honorary degrees.
A compilation of Commencement festivities, including a video of the ceremony, is available online. Be sure to share photos with #Coloradocollege2016.