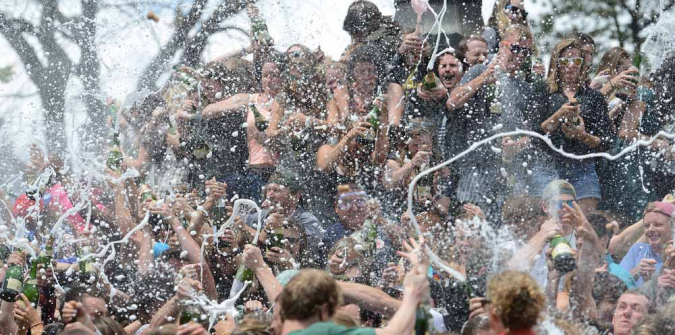 Colorado College President Jill Tiefenthaler will present the approximately 500 undergraduate members of the Class of 2014 and those completing the master of arts in teaching with their degrees at CC's 132nd commencement ceremony at 8:30 a.m., Monday, May 19 outside on Armstrong Quad.

Baccalaureate will be held at 3 p.m., Sunday, May 18 in Shove Memorial Chapel. Each year members of the senior class vote to determine the baccalaureate speaker; this year they voted for Professor of Psychology Kristi Erdal, whose address is titled "Losing My Religion."

Jane Lubchenco '69, first woman to serve as the head of the National Oceanic and Atmospheric Administration (NOAA), will give the commencement address, titled "From Rats to Sharks: Tales of Public Service."

Lubchenco served as head of NOAA from 2009-2013. Under her leadership, NOAA focused on restoring fisheries to sustainability and profitability, restoring oceans and coasts to a healthy state, promoting climate science and delivering climate information and services to inform understanding and adaptation, ensuring continuity of the nation's weather and environmental satellites, and strengthening science and ensuring scientific integrity.

Wesley Brandt '14, a music major from Washington, D.C., will give the senior address, titled "Sisyphus on the Block Plan." Following graduation he plans on revising two musicals he has composed and submitting them to theatre festivals, then heading to New York City.

In addition to Lubchenco, two alumni and a community leader will receive honorary degrees. They are Ed Robson '54, an Arizona business leader and developer of active adult communities; Robert Schock '61, a member of the United Nations Intergovernmental Panel on Climate Change, which was awarded the 2007 Nobel Peace Prize; and Jerri Marr, forest supervisor of the Pike and San Isabel National Forests, and the Cimarron and Comanche National Grasslands, who was credited as a hero during the 2012 Waldo Canyon fire.

The site of the ceremony, Armstrong Quad, is located directly north of the intersection of Tejon and Cache La Poudre streets. Cascade Avenue will be closed from Uintah to Cache La Poudre streets from 8 a.m. to approximately 1 p.m. for the commencement ceremony. Following the ceremony, a reception will be held on Cutler Quad.

In the event of inclement weather, commencement exercises will take place in the Colorado Springs World Arena, 3185 Venetucci Blvd. If weather is a concern, listen to Colorado College's radio station, KRCC-FM 91.5, for announcements. For information, directions, or disability accommodation at the event, please call (719) 389-6607.