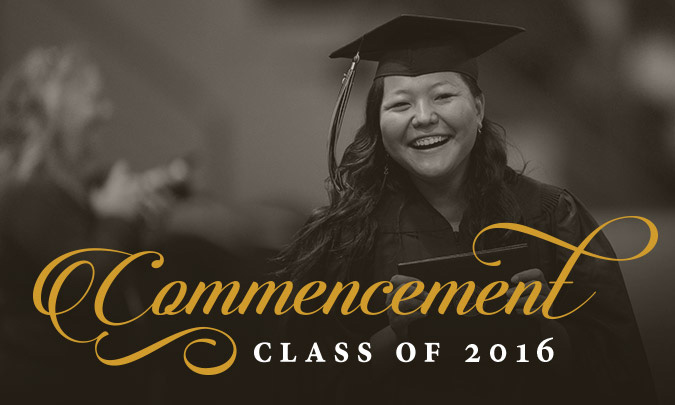 Colorado College will hold its 142nd Commencement ceremony at 8:30 a.m., Monday, May 16, with renowned geophysicist Marcia McNutt '74 delivering the Commencement address.

The Commencement ceremony currently is scheduled to take place on Armstrong Quad, 14 E. Cache La Poudre St. However, in the event of inclement weather, the ceremony will be held at the Colorado Springs World Arena, 3185 Venetucci Blvd., and will begin a half-hour later, at 9 a.m. Should the location be changed, a decision will be made by 9 p.m., Sunday, May 15. Seniors, faculty, and staff will receive information via CC's emergency notification system, an update will be posted on the CC website, and local media, including Colorado College's NPR-member station KRCC 91.5 FM, will be notified. You may also call (719) 389-6707 for information about location changes.

Colorado College President Jill Tiefenthaler will present the approximately 570 undergraduate members of the Class of 2016 and those completing the master of arts in teaching (MAT) with their degrees. In addition to presenting McNutt with an honorary degree, President Tiefenthaler also will present honorary degrees to three recipients who have made outstanding contributions in their fields: Shelby M.C. Davis, co-founder of the Davis United World College Scholars Program; Peter Natiello '82, mission director for Colombia at the United States Agency for International Development (USAID); and Senga Nengudi Fittz, a nationally recognized Colorado Springs-based artist.

McNutt is well- known for a series of "firsts" in the science community. She became the first female editor-in-chief of Science in 2013 and will become the first woman president of the National Academy of Sciences when her six-year term begins on July 1. Prior to her role at Science, McNutt was the first woman to lead the United States Geological Survey (USGS) since it was founded in 1879.
Find more information, including details for graduates and guests at: www.coloradocollege.edu/commencement