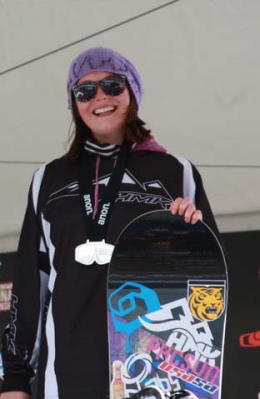 Competitive snowboarder Chloe Banning '14 recently completed an impressive season, securing a spot on the World Cup tour for the 2011-12 season. Banning, who finished 20th overall in World Cup boardercross standings, also was named the Nor-Am championship for the second consecutive year. The Nor-Am Cup is a snowboard series one level below World Cup competition.
Banning, who competes in boardercross competitions, placed fourth in this season's Sprint U.S. Snowboarding Grand Prix. She finished behind world champion Lindsey Jacobellis, 2010 boardercross Olympic Silver medalist Deborah Anthonioz of France, and Olympian Faye Gulini.
Banning also had a third-place finish this season at the Junior World Championships (age 20 and under), held in Valmalenco, Italy. This season she competed in Canada, Italy, Switzerland, Utah, Oregon, California, and Colorado.
Banning, of Steamboat Springs, Colo., started snowboarding when she was 7 and began competing a year later. She plans to pursue a career in medicine, with a major in either biology or math.