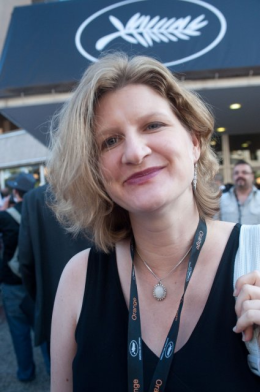 A civil-rights documentary produced by Dylan Nelson, CC artist-in-residence for film studies, was recently shown in the Ukraine through a State Department program. Her feature-length documentary, "Soundtrack for a Revolution," tells the story of the American civil rights movement of the 1950s and '60s through the freedom songs protesters sang on picket lines, in meetings, and in jail.
Nelson has just returned from the Ukraine, where she spent eight days as a delegate for the State Department's American Documentary Showcase program, which presents award-winning contemporary American documentaries to audiences around the world.While in the Ukraine, she introduced her film and conducted workshops and outreach programs on documentary filmmaking. The program seeks to show the world a view of American society and culture as seen by independent documentary filmmakers.
The documentary premiered at the Tribeca and Cannes film festivals, had its theatrical release last year, just came out on DVD, and will air on PBS's "American Experience" in May. It was short-listed for an Academy Award for Best Documentary Feature, nominated for a Producers Guild of America Award, a Writer's Guild Award, and three International Documentary Association Awards.
Nelson also was associate and line producer for the 2007 documentary "Nanking," which also was short-listed for the Academy Award for Best Documentary Feature. She teaches several film classes at CC independently and in conjunction with her husband, Clay Haskell.