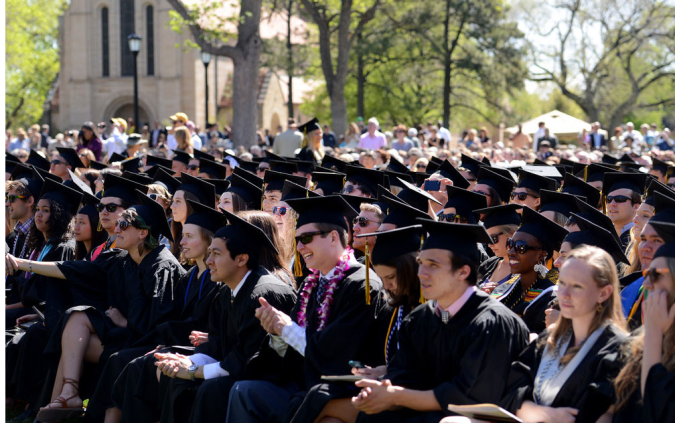 Colorado College's 132nd commencement ceremony was held Monday, May 19, on Armstrong Quad, with President Jill Tiefenthaler conferring degrees to the Class of 2014 - 566 undergraduates and 48 Masters of Arts in Teaching graduate students. View photos, videos, and texts of speeches as they become available. Additional photos can be viewed and shared on the CC Facebook page and CC's photo gallery.

Jane Lubchenco '69, first woman to serve as the head of the National Oceanic and Atmospheric Administration (NOAA), gave the commencement address, titled "From Rats to Sharks: Tales of Public Service."

"You millennials - because of your numbers and attitudes - are positioned to have immense influence on our country," Lubchenco told the graduating class. "You will elect the next six presidents of the United States. You will be the problem solvers and the leaders."

She advised the new graduates to be willing to take risks, be ready to challenge conventional wisdom, and give back to society through public service.

Wesley Brandt '14, a music major from Washington, D.C., was elected by his classmates to give the senior address, titled "Sisyphus on the Block Plan." Following graduation he plans on revising two musicals he has composed and submitting them to theatre festivals, then heading to New York City.

Brandt opened his speech by saying, "I have a friend named Sisyphus. He's this Greek guy; you may have heard of him. There's this myth that he was punished by the gods to push a boulder to the top of a mountain, where it then falls back down, and according to the myth, he repeats this process for all of eternity. But the Sisyphus I know doesn't push boulders; he pushes blocks, up a mountain. One might even say he's on the Block Plan." Read the entire speech.

In addition to Lubchenco, two alumni and a community leader received honorary degrees at the ceremony. Degrees were presented to Ed Robson '54, an Arizona business leader and developer of active adult communities; Robert Schock '61, a member of the United Nations Intergovernmental Panel on Climate Change, which was awarded the 2007 Nobel Peace Prize; and Jerri Marr, forest supervisor of the Pike and San Isabel National Forests, and the Cimarron and Comanche National Grasslands, who was credited as a hero during the 2012 Waldo Canyon fire.

Lubchenco served as head of NOAA from 2009-2013. Under her leadership, NOAA focused on restoring fisheries to sustainability and profitability, restoring oceans and coasts to a healthy state, promoting climate science and delivering climate information and services to inform understanding and adaptation, ensuring continuity of the nation's weather and environmental satellites, and strengthening science and ensuring scientific integrity.

Baccalaureate was held at 3 p.m., Sunday, May 18 in Shove Memorial Chapel. Each year members of the senior class vote to determine the baccalaureate speaker; this year they voted for Professor of Psychology Kristi Erdal, whose address was titled "Losing My Religion."