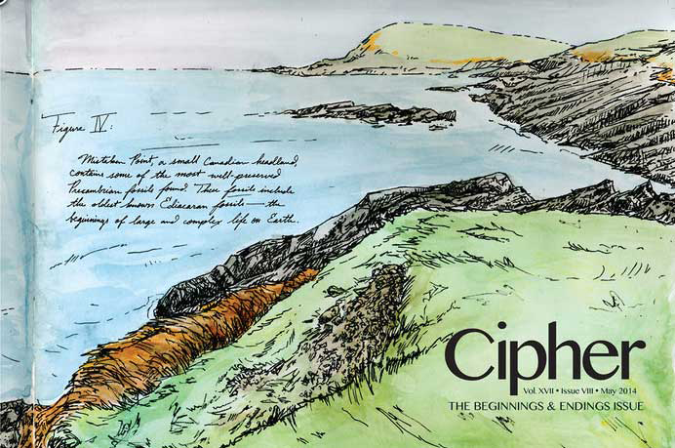 The Cipher, Colorado College's student-run alternative news magazine, has been named a finalist for the Associated Collegiate Press (ACP) Pacemaker award for feature magazines. The award marks the highest national recognition collegiate magazines can achieve.

Selected as a finalist is last year's block 8 issue, Beginnings & Endings, edited by co-editors-in-chief Cameron Johnson '15 and Han Sayles '15, and editors Tess Gattuso '15, Olivia Chandrasekhar '17, Nick Mattson '14, and Nat Stein '15. The nomination is an honor for Colorado College, which is competing against much larger universities such as California State University, Northwestern University, University of Oregon, and Princeton University, among others.
"It's amazing to be competing on this level. I'm especially proud of our staff of editors and contributors for producing issues during something as time-constraining as the Block Plan," Johnson said. "Regardless of our two-week cycle, every issue manages to surpass previous issues and I'm looking forward to seeing how far we can go."

The magazine, which comes out once a block, currently is edited by co-editors-in-chief Sarah Ross '15 and Sayles, and editors Gattuso, Johnson, Chandrasekhar, and Andrea More '16. This is the first block for new editors Anna Cain '17, Brian LeMeur '17, and Hannah Fleming '17.
Recent issues include The (Un)Censored Issue, The Intimacy Issue, The Green Issue, The Uncomfortable Issue, and The Insider/Outsider Issue. "Each issue is guided by a theme in order to prompt writers and illustrators to explore myriad perspectives about a single topic. I think it creates a sense of cohesiveness for the reader-it makes our magazine distinct," Sayles said.

According to the magazine's mission statement, "The Cipher emphasizes journalistic writing and endeavors to engage the reader in meaningful discourse. Our magazine comes out of Colorado College, but it does not cover Colorado College exclusively. We investigate matters affecting the college, Colorado Springs, this nation and the world. Beyond that, we are always striving to be a venue for creative, critical perspectives."