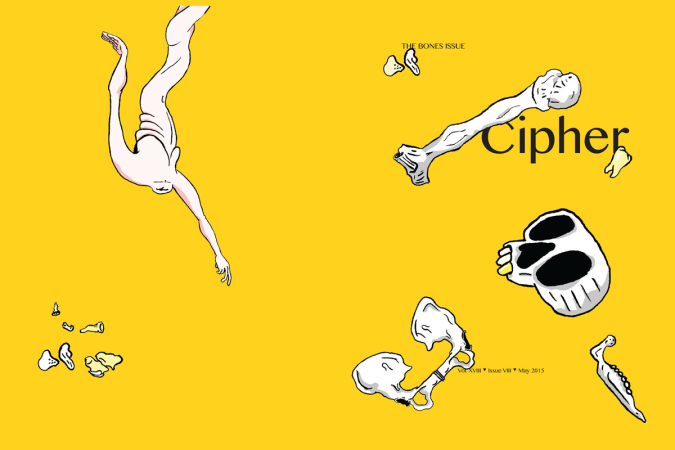 By Montana Bass '18
Colorado College's Cipher magazine has been nominated as a finalist in the feature magazine category to receive the prestigious Pacemaker Award, sponsored by the Associated Collegiate Press.
Cipher is nominated for its Block 8 2015 issue, "Bones," which showcased a variety of subject matter with articles covering the scientific, exploring the effects of marathon running on the body; to the mysterious, capturing CC's favorite ghost stories; to the deeply emotional, delving into the case of a missing Colorado Springs boy. Each of the 17 articles offers a unique glimpse into the culture and community at CC and the surrounding region.
Cipher editor Anna Cain '17 said despite "quality work" in the issue, the magazine is still an underdog in the competition. "I've stalked all of the competition," she said, "and each one's staff is much bigger than ours." A bigger staff likely means a larger budget as well. The Cipher has a staff of seven students while most of the other nine finalists have teams of over 20.
The Associated Collegiate Press is the largest and oldest national membership organization for collegiate publications in the country, and the Pacemaker Award is often regarded as the Pulitzer Prize for higher education media. Cipher received the award in 2012 and, according to Cain, is considered for nomination most years.
Cain attributes Cipher's success to its unique approach to developing stories. Cipher requires writers and editors to collaborate on a story for an entire block. "It's a great learning space," Cain said. "We meet two or three times with every one of our writers, so I think that's my favorite part of the magazine. We really want people to have the freedom to dig deep into a topic."
The awards ceremony takes place Oct. 31, and Cain said she hopes to fly to Austin, Texas, with fellow staff members Hannah Fleming '17 and Charlie Theobald '17 to attend. The Cipher's "Bones" issue can be read online.