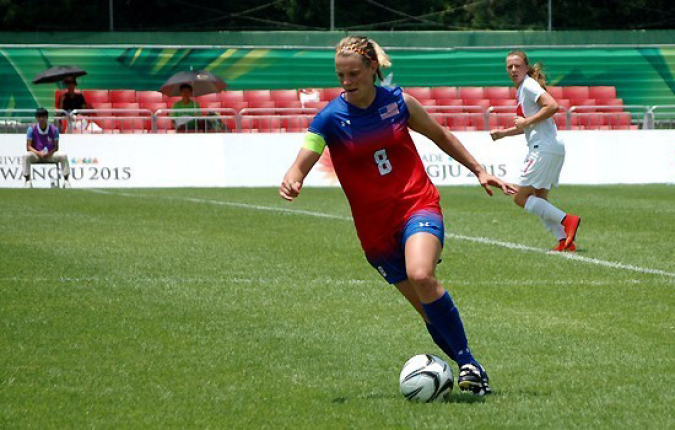 The Colorado College women's soccer team, playing as Team USA, placed 12th at the World University Games with a 3-2 loss to Chinese Taipei (Taiwan) during a driving rainstorm Sunday, July 12, in Gwangju, South Korea.

Hsiu-chin Yu converted on a penalty kick in the 82nd minute to give her side the victory.

Team USA nearly tied the game four minutes later, but a free kick by Rachel Herron'15 hit the crossbar on what proved to be the final shot of the game.

Hsin-ni Tsou put Chinese Taipei ahead for the first time in the 50th minute when she poked in a ball that had stopped in a puddle in front of the United States goal.

The U.S. tied the game midway through the second half when Sarah Schweiss '17 found the net with a header off a volley from Madison Tominello '19 from the right flank.

Jessie Ayers '15 gave Team USA a 1-0 lead in the seventh minute when she took a cross from Schweiss and finished to the lower left.

Chinese Taipei tied the game in the 21st minute when Pi-han Chan put a shot from the top of the box into the top right corner.

Ayers had an opportunity to put the United States back in the lead with five minutes remaining in the first half, but her shot from close range was steered aside by goalkeeper Fang-yi Chu.

Team USA finished the game with a 9-3 advantage in total shots and a 4-3 edge in shots on target.

The United States finished the tournament with a 2-4 record. Follow the team on Facebook, Twitter and Instagram using #CCTeamUSA.