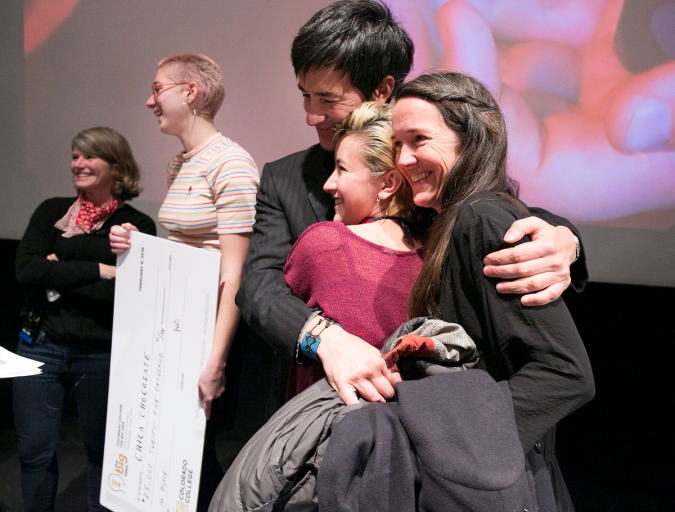 Chica Chocolate, which took second place in Colorado College's Big Idea competition last year, returned to take first place and $25,000 in prize money at CC's sixth annual Big Idea competition, held Feb. 8 in the Edith Kinney Gaylord Cornerstone Arts Center. The student pitch competition, with a total of $50,000 prize money at stake, drew a packed house and is rapidly becoming one of CC's signature events.
Chica Chocolate consists of team members Cassidy Lam '19 and Elise Morgan, a student at the University of Colorado-Boulder. The company's high-quality chocolate truffles are infused with a Chinese herbal formula designed to promote hormone balance, and are delivered to customers on a subscription basis.
"It's validating to have the support and realization that other people believe in what we're doing and think it's worthwhile," says Lam, an international political economy major and Chinese minor. "We had more to lose this year; we've already built something and believe so strongly in our idea and are so passionate about the mission of our work."
She and Morgan, who have been friends since they met in seventh-grade gym class (as did Ben and Jerry, they note), were one of three female-led teams this year, a first for the program.
Taking second place and netting $15,000 in seed money was Raw Sauce, led by environmental science major Alex Harros '18 and geology major George Fowlkes '18. Raw Sauce is a sustainable fermented foods business with an end goal of internally sourcing produce through their own hydroponic grow operation. The company strives to create food that causes no unnecessary harm from seed to sauce. To help convince the judges of the probiotic product's merit, the team presented the judging panel, consisting of four Colorado College alumni and a retired entrepreneur, with chips and a sampling of the sauce. (The judges agreed that the hot sauce was appealing.)
In third place and receiving $10,000 in seed money was Momentics, led by physics major Alana Aamodt '18, physics and studio art major Anna Gilbertson '19, and Josie Eichers, a finance and international business student at the University of Minnesota. Aamodt, who was fascinated by Rube Goldberg-like machines as a child, well before she took her first physics class as a senior in high school, wishes there had been something like Momentics when she was growing up. Momentics is an open-ended toy kit for children ages 8-12 that leverages the viral culture of Rube Goldberg machines to engage and excite them about STEM (science, technology, engineering, and math) by upcycling old toys to create chain reaction machines. A Momentics kit includes not just the connecting pieces for Rube Goldberg machines but also printed programming materials and access to online video community challenges.
"The goal of the company is to build a world where fun doesn't necessarily mean more, where people aren't afraid to try and fail, and where physics can be accessible and appealing to everyone," says Aamodt.
Two other teams also made it to the finals. LifExpectancy, an iPhone application that motivates people to live healthier lives by showing them how each health and wellness activity they partake in affects one common area - their life expectancy, and therefore future - featured Lauren Weiss '21, an economics and computer science major, and Jack Hamren '18, an economics major.
NOWZ, a universal event aggregation app that utilizes augmented reality to display and filter local events, featured astrophysics major Deming Haines '21, mathematics major Charlie Kellogg '21, and computer science major Case Regan '21.
Colorado College President Jill Tiefenthaler noted that in addition to three teams being led by female students, this year's competition also featured two teams led by first-year students and had a wide representation of majors and disciplines.
Judge Meriwether Hardie '09, organizational development manager for Denver-based Bio-Logical Capital, a land investment, development, and conservation company, also commented on the diversity of the teams. "This competition is having a wider and wider impact, and pulling in more CC students," she said. "It's harnessing innovation and putting a business model behind it."
The Big Idea is "a pipeline of student projects with a lot of momentum," said Kishen Mangat '96, general manager of mobile core and policy for Cisco Systems and a CC trustee. "The younger student groups are encouraging and very promising for the program."
Hardie and Mangat, each in their second year as judges, joined six-time judge Bob Selig '61, president of Hayward, California-based Davis Instruments and a CC trustee; Em Havens '09, senior human systems designer at IDEO U, an education startup within design firm, IDEO; and Bart Holaday, a U.S. Air Force Academy graduate who has chaired the Center for Innovation Foundation at the University of North Dakota and is involved with the university's entrepreneurship program.
Seventeen teams registered for the competition in December, says CC Director of Innovation Dez Stone Menendez '02. Of those, nine advanced to the semifinals in January and five made it to the finals. Additionally, several of the teams in previous competitions are still in operation, including Spindle, Flyphone, Colorado Springs Food Rescue, and Ogugu.