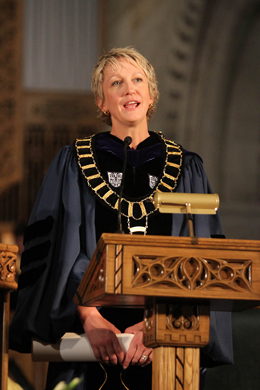 Jill M. Tiefenthaler was inaugurated as Colorado College's 13th president on Sept. 22 at Shove Memorial Chapel.

The installation ceremony, which was attended by faculty, students, staff, trustees, alumni, community members, and delegates from more than 30 colleges and universities nationwide, capped a series of activities that included a campus-wide community service project in Colorado Springs, faculty research presentations, and a variety of film, art, dance, drama, and athletic offerings, showcasing the talent of CC's students and faculty. The ceremony included an inaugural fanfare composed by CC Music Professor Ofer Ben-Amots, and the inaugural poem was written by CC English Professor Jane Hilberry.
President Tiefenthaler delivered the inaugural address, titled "Listening, Learning, and Leading: Lessons of the Liberal Arts."
Among those extending welcoming greetings at the ceremony were U. S. Rep. Diana DeGette '79, on behalf of the US. House of Representatives; Scott Hente, on behalf of the Colorado Springs City Council; Kathryn Mohrman, on behalf of former Colorado College presidents; Alan Harris '77 on behalf of CC alumni; and Nathan Lee '13, president of the Colorado College Student Government Association, on behalf of CC students.
The ceremony was followed by a reception on Armstrong Quad and a ball on Worner Quad.
More on Jill Tiefenthaler's inauguration: