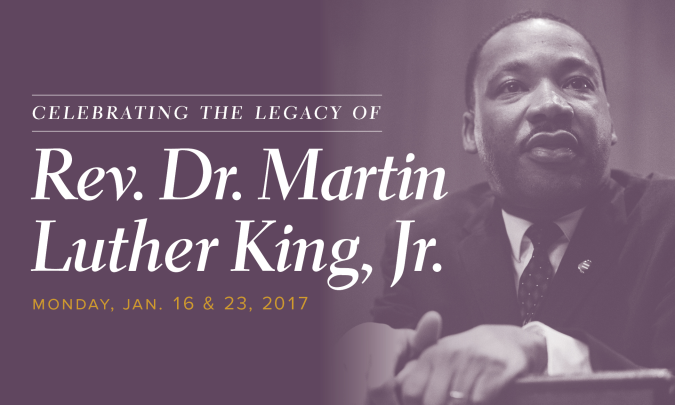 Colorado College celebrates the life and legacy of Rev. Dr. Martin Luther King, Jr. with two days of events.
Celebrations begin with the All People's Breakfast on Monday, Jan. 16. This year's event theme, "It Still Starts with Me: A Call to Action," is an opportunity for the Colorado Springs community to come together. Keynote speaker Idris Goodwin, CC assistant professor of theatre, will present his interpretation of "The Drum Major Instinct" from Martin Luther King's February 1968 sermon at Ebenezer Baptist Church.
The breakfast also features the Soka Gakkai exhibit "Victory Over Violence," the Jamoral African Dance and Drum Group, the New Direction Baptist Church Brotherhood Choir, youth activists and artists, and an exhibit by Artists and Makers of Undying Nobility (AMUN) titled "This is 'Criminal.'"

The All People's Breakfast will be held in CC's Reid Arena in the El Pomar Sports Center, 44 W. Cache La Poudre St.; doors open at 7:30 a.m. and the breakfast begins at 8 a.m. Tickets are $7 for community members, and are available at Worner Desk in the Worner Campus Center, 902 N. Cascade Ave. A limited number of tickets will be available at the door (cash only). Colorado College students can pick up a free ticket at the Worner Desk with their CC Gold Card.
Following the breakfast, there will be a rally and March for Hope. Participants will meet at the Earle Flagpole on Worner Quad at 10 a.m. and march to Acacia Park in downtown Colorado Springs.
The following week CC will host the Cleo Parker Robinson Dance Ensemble at 7 p.m., Monday, Jan. 23 in the Kathryn Mohrman Theatre, 14 E. Cache La Poudre St. This internationally esteemed group is one of America's foremost modern dance companies. They will perform a dynamic body of work inspired by the African-American experience, featuring special guests from the Gospel Music Workshop of America, Colorado Springs Chapter choir. The Cleo Parker Robinson Dance Ensemble presentation is free and open to the public.
The Colorado College community will kick off Block 5 on Monday, Jan. 23 with a First Mondays event that further explores the impact and continued relevance of King's enduring legacy. Russell Rickford, who specializes in the black radical tradition and black political culture after WWII, will discuss "Black Lives Matter as a People's Democracy: Beyond the Farce of Electoral Politics," at 11:15 a.m. in Mohrman Theatre. In his talk, Rickford will present Black Lives Matter as a movement that signals the rebirth of deeply democratic forms of mass participation. His book, "We Are an African People: Independent Education, Black Power, and the Radical Imagination," an intellectual history of Pan Africanist schools from the 1960s to the present, was released by Oxford University Press in January 2016. He currently is working on a book about Guyana and radical African-American politics in the 1970s.