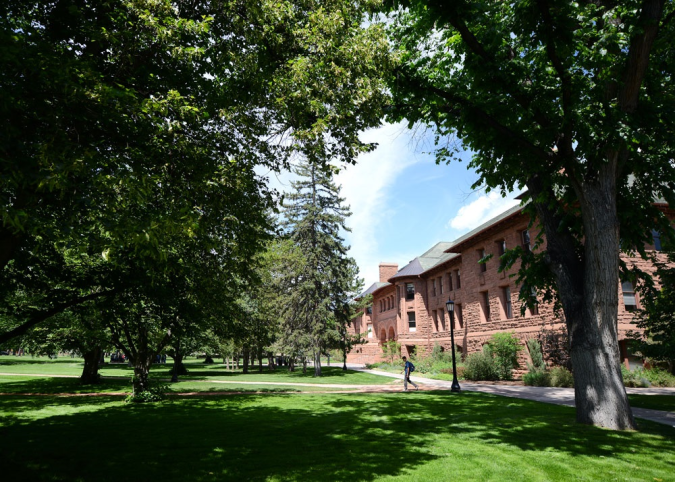 Colorado College welcomes 11 new tenure-track faculty members and two Riley Scholars-in-Residence to campus. Among the new faculty members are two CC alumnae, Natalie Gosnell '08 (physics) and Molly Moran '09 (mathematics). The 11 new faculty members are:
Richard Buxton, Classics
Buxton received his Ph.D. and M.A in classics from the University of Washington in 2010 and his B.A in classics with honors at Vassar College in 2003. Prior to his appointment as an assistant professor, Buxton taught courses at Colorado College as a Riley Scholar in 2014-15 and as a visiting assistant professor in 2016-17. Buxton's most recent article, "Commanders as Friends: Xenophon on Leadership," was published in the Cambridge Companion to Xenophon in 2016. He also is the editor of Aspects of Leadership in Xenophon. Histos: Supplementary Volume, a book that includes his chapter "Novel Leaders for Novel Armies: Xenophon's Focus on Willing Obedience in Context." Buxton will teach Greek for Beginners, Reading and Advanced Reading in Greek, The Ancient Economy, and a Freedom and Authority course.

Eli Fahrenkrug, Chemistry and Biochemistry
Fahrenkrug received his Ph.D. in chemistry from the University of Michigan in 2016 and his B.S in chemistry in 2011 from The Evergreen State College. Before coming to Colorado College, Fahrenkrug was a visiting scientist and lecturer on Electroanalytical Chemistry at the Chinese Academy of Sciences, Institute of Semiconductors. Fahrenkrug has co-authored numerous articles; the most recent have been published in Journal of the Electrochemical Society, Applied Materials & Interfaces, Electrochimia Acta and Accounts of Chemical Research. Fahrenkrug will teach Introduction to Instrumental Methods, General Chemistry II, Analytical/Bioanalytical Chemistry, and Reactions of Organic Molecules.

Sylvan Goldberg, English
Goldberg received his Ph.D. in English in 2017 from Stanford University. He graduated from the University of Nevada, Reno in 2012 with an M.A in English and from Vassar College in 2004 with a B.A in English. In 2015, Goldberg's co-authored article, "The Faulknerian Anthropocene: Scales of Times and History in 'The Wild Palms' and 'Go Down, Moses'," was published in The New Cambridge Companion to William Faulkner. A second article, "What is it about you… that so irritates me?': Northern Exposure's Sustainable Feeling," appeared in New International Voices in Ecocriticism in 2014. Goldberg will teach Introduction to Poetry, Climate Change in Fiction and Film, Early American Literature, and 19th-century American Literature.

Natalie Gosnell, Physics
After graduating from Colorado College cum laude in 2008 with a B.A in physics, Gosnell pursued graduate studies at the University of Wisconsin-Madison, and received her M.S. and Ph.D. in astronomy in 2010 and 2014, respectively. Gosnell's research interests include binary stars in open clusters, stellar evolution, stellar spectroscopy, mass transfer processes, and X-ray binaries. Her co-authored article, "Today a Duo but Once a Trio? The Double White Dwarf HS 2220+2146 May be a Post-Blue Straggler Binary," was published in the Astrophysical Journal in 2016. In 2016-17, Gosnell was a research affiliate at the McDonald Observatory and a visiting assistant professor of physics at Colorado College. Gosnell will teach Physics for the Physical Sciences 1 & 2, Quantum Mechanics, Physics for the Life Sciences, and Astrophysics.

Rachel Jabaily, Organismal Biology and Ecology
Jabaily received her Ph.D. from the University of Wisconsin-Madison in botany in 2009 and her B.S. in botany in 2004 from the University of Wyoming, where she graduated magna cum laude. Jabaily's research project, "Phylogenetics and Floral Symmetry Evolution of Goodeniaccae," was funded by a National Science Foundation Division of Environmental Biology Grant. Her most recent publications have appeared in PLoS ONE, Molecular Phylogenetics & Evolution, Systematic Botany and Journal of Biogeography. Jabaily comes to Colorado College from Rhodes College where she has been an assistant professor since 2011. Jabaily will teach Evolutionary Biology, Biology of Plants, Biogeography, Field Botany, and Research Problems in Organismal Biology and Ecology.

Javiera Jaque, Spanish
Jaque received her Ph.D. in Spanish in 2017 from Washington University in St. Louis and her B.A in Letters from Pontificia Universidad Catolica de Chile in 2008, where she majored in Hispanic literature and linguistics. At Washington University, Jaque taught beginning and advanced Spanish grammar and composition courses and a survey in Latin American literature and culture. Her research interests include border studies, religious studies, performance studies, and indigenous migrations. Her most recent article, "Performatividad y visualidad del rito entre mapuches y jesuitas en el siglo XVII," is forthcoming in an edited volume, Colonialismo Sur. Jaque will teach multiple levels of Spanish language, Modern Hispanic Literatures and Cultures, and Cultural Context and Critical Analysis.

Jessica Kisunzu, Chemistry
Kisunzu received her Ph.D. in organic chemistry from the University of California, Berkeley in 2014 and her B.S in chemistry from Southern Adventist University in 2008 where she graduated summa cum laude. Since 2014 J Kisunzu has conducted research in peptide chemistry, computational methods, and asymmetric catalysis as a Novartis postdoctoral fellow at ETH Zürich Laboratory of Organic Chemistry. One of her most recent co-authored articles, "Crystal Structures of Peptidic Catalysis of the H-DPro-Pro-Xaa Type," was accepted for publication in Peptide Science in 2016. Kisunzu's courses will include Structures of Organic Molecules and Reactions of Organic Molecules.

Rushaan Kumar, Feminist and Gender Studies
Kumar received his Ph.D. in feminist studies from the University of Minnesota-Twin Cities in 2015. He received an M.A. (2006) in literary and cultural studies from the Central Institute of English and Foreign Languages and an M.A. (2004) and B.A. (2002) in English literature from the University of Delhi. In 2016-17, Kumar taught at Pomona College as a visiting assistant professor. He is preparing an article, "Queer Fixations: Milan Singh, Falguni Pathak and the Imbrications of Queer and Nation in India," for submission to South Asian Popular Culture. Kumar will teach LGBTQ Social Movements in the U.S., Introduction to Feminist and Gender Studies, Introduction to Queer Studies, Masculinities, and Transitional Sexualities.

Beth Malmskog, Mathematics
Malmskog received her Ph.D. and M.S degrees in mathematics from Colorado State University in 2011 and her B.S in mathematics at the University of Wyoming in 2002. As a visiting assistant professor of mathematics at Colorado College from 2012 to 2014, Malmskog taught Linear Algebra, Number Theory, Algebraic Curves with Error Correcting Codes and Cryptography, and Calculus, levels 1-3. Since 2014 she has taught at Villanova University as an assistant professor. Her article, "Picard Curves with Good Reduction Away From P=3," coauthored with Chris Rasmussen, will appear in LMS Computations. A recent recipient of an NSA Young Investigator Grant, Malmskog will teach Linear Algebra, Calculus 2, and Abstract Algebra at CC this year.

Molly Moran, Mathematics
Moran received her Ph.D. (2015) in mathematics and M.S (2010) in mathematics from the University of Wisconsin-Milwaukee. A Colorado College alumna, Molly majored in mathematics and minored in French, graduating cum laude in 2009. Since 2015 she has taught at CC as a visiting assistant professor, and she will continue to teach courses including Calculus (three levels), Linear Algebra, Ordinary Differential Equations, Mathematical Analysis I, and Topology. In 2016 Moran published "A Comparison of Large Scale Dimension of a Metric Space to the Dimension of the Boundary" in Topology and its Applications, "Metrics on Visual Boundaries of CAT (0) Spaces" in Geometriae Dedicata, and "Finite-Dimensionality of Z-boundaries" in Groups, Geometry, and Dynamics.

Christian Sorace, Political Science
In 2014, Sorace received his Ph.D. in government from the University of Texas-Austin where he studied comparative politics and political theory. He also received an M.A in social science from the University of Chicago in 2007 and a B.A in philosophy with honors from Trinity College in 2003. Prior to his recent post-doctoral fellowship at The Australian National University Centre on China in the World, Sorace was a visiting assistant professor of political science at Hobart and William Smith College. Sorace's book, "Shaken Authority: China's Communist Party and the 2008 Sichuan Earthquake," was published in 2017 by Cornell University Press. Sorace will teach Comparative Politics of China, Power and Everyday Life, Conduct of China's Foreign Policy, Introduction to Comparative Politics, and Language and Power.
The two new Riley Scholars-in-Residence are:
Ulices Piña, History
Piña earned a B.A. in history and Spanish (2009) and a M.A. in history (2011) from the University of California, Riverside, and his Ph.D. in history (2017) from the University of California, San Diego. He currently is revising a book manuscript based on his Ph.D. dissertation, "Rebellious Citizens: National Reforms and the Practice of Local Governance in Jalisco, 1914-1940." Piña specializes in Latin American history, modern Mexican history, and Latin American studies. He has published an article, "The Different Roads to Rebellion: Socialist Education and the Second Cristero Rebellion, 1934-1939," in Letras Históricas (Universidad de Guadalajara). His teaching interests also include revolutions, social movements, borderlands, socio-cultural anthropology, and ethnohistory.

Tilottama Karlekar, Film and Media Studies
Karlekar earned a Ph.D. in media, culture, and communication from New York University, a M.A. in media studies and production from Temple University, and a B.A. in English literature from Presidency College, Calcutta. She is an anthropologist of film and media whose work explores the intersections of social movements and transnational media. Karlekar was awarded the distinguished dissertation award for her dissertation, "The Documentary Debates: Censorship, Protest, and Film Festival Publics in Contemporary India," and currently is completing a book manuscript based on it. Her research and teaching interests include Indian cinema, postcolonial theory, transnational cinema, film festivals and advertising and promotional cultures. In addition to her academic work, Karlekar has worked as a writer and production executive for television, film, and advertising in Philadelphia, New York, and Mumbai, India.