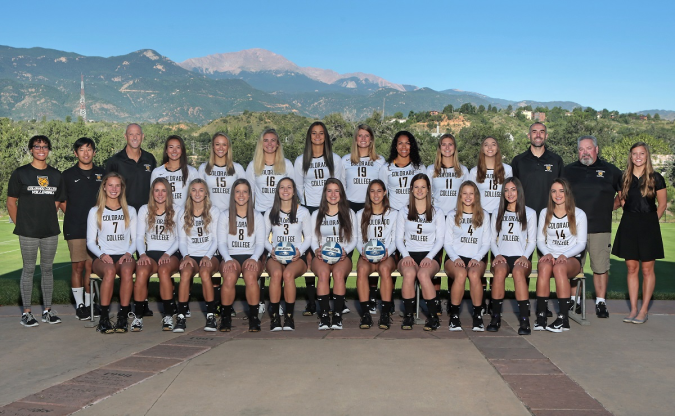 For the first time in program history, the Colorado College volleyball team is ranked No. 1 in the American Volleyball Coaches Association Division III Coaches Poll.
The Tigers took over the top spot after Wittenberg University dropped a pair of matches last Saturday.
At the same time, CC won three matches at last week's Spike It Up! Classic to improve to 29-1 overall and 29-0 against DIII foes.
In addition to achieving a program first, Colorado College also became the first Southern Collegiate Athletic Conference volleyball team to hold the nation's top ranking.
"We're excited for our players and the program to be recognized," says head coach Rick Swan. "It's been a team effort to get us where we are today. Being ranked No. 1 is great, however our focus is being prepared to play our best at this week's SCAC championship."
The top five in this week's AVCA poll consists of CC (1633 points), Southwestern University (1549), Calvin College (1508), Wittenberg (1452), and Trinity University (1400).
Colorado College received 59 of 67 first-place votes.
The Tigers are 6-0 this season against nationally-ranked opponents, including five that were ranked in the top five of the AVCA poll on the date of the match.
CC recorded the program's first-ever victory over an opponent ranked No. 1 when the Tigers defeated Calvin College in three sets at the Elmhurst Invitational on Sept. 16.
Colorado College opened the season with a school-record 18-match winning streak, a run that included four victories over ranked opponents. The record-setting victory over Texas Lutheran University on Oct. 1 also was Swan's 500th as head coach of the Tigers. His record at CC now stands at 511-202.
Swan is the winningest coach in Colorado College volleyball history and has guided his teams to 19 consecutive appearances in the NCAA Division III Women's Volleyball Championship.
The only blemish on CC's record this season is a four-set loss to Division II Colorado Christian University on Oct. 4 in Lakewood, Colorado.
Since then, the Tigers reeled off 11 consecutive victories, including wins over No. 3 Southwestern University and No. 5 Trinity University on Oct. 21 to clinch the SCAC regular-season crown and the No. 1 seed at the conference tournament.
The next day, Colorado College defeated to Texas Lutheran and Schreiner University to wrap up its SCAC schedule with a perfect 14-0 record for the second time in three years.
CC's current .967 winning percentage is the program's single-season record.