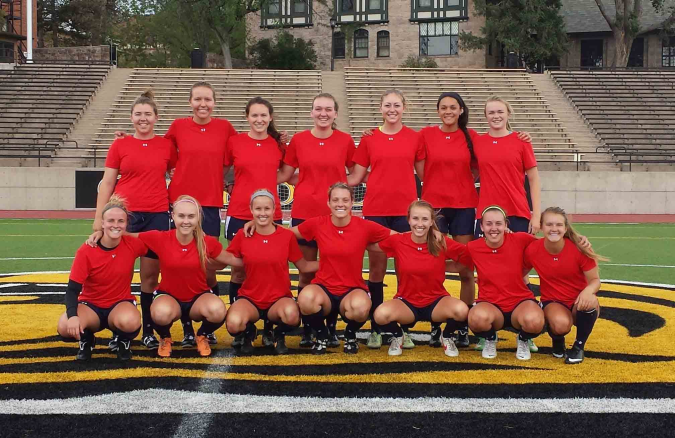 The women's soccer squad that will represent Colorado College and the United States at the 2015 World University Games was announced in conjunction with its first official training session on June 1.

For head coach Geoff Bennett, accepting the invitation to represent the red, white, and blue was not nearly as difficult as deciding which players would earn the once-in-a-lifetime opportunity.

"Selecting the roster was one of the hardest decisions, if not the hardest decision, we've had to make during our time here at Colorado College," Bennett said. "There were a lot of intangibles that went into the decision making - the system that we are playing, positional needs, and experience.

"Everyone in our trials performed very, very well. It was difficult for players and it was difficult for staff. The only good thing is that part is over and now we can focus on playing as opposed to logistics."

The 20 players competing as Team USA in Gwangju, Korea, are a collection of current, former, and future Tigers, including 10 who helped CC advance to the 2013 NCAA Tournament after claiming the Conference USA regular-season and tournament championships.

Current student-athletes on the roster are midfielders Alexis Long '16 (Oak Hills, Calif.), Dana Gornick '18 (Menlo Park, Calif.), and Sarah Schweiss '17 (Monument, Colo.); defenders Ali Basom '18 (Enola, Pa.) and Samantha Curran '16 (Austin, Texas); and goalkeepers Rowan Frederiksen '18 (Newport Beach, Calif.) and Louisa Mackenzie '18 (Albuquerque, N.M.).

Alumni who are competing include forward Rachel Herron '15 (Redmond, Wash.); midfielders Jessie Ayers '15 (Seattle, Wash.), Jordan Savold '15 (Bethesda, Md.), Jennifer Stoot '15 (Colorado Springs, Colo.), and Kaeli Vandersluis '15 (Colorado Springs, Colo.); and defenders Sarah Haizlip '14 (San Francisco, Calif.), Kecia Morway '14 (Lake Villa, Ill.), and Katie Uyenishi '14 (Hawthorn Woods, Ill.).

The five first-year Tigers on the roster are forward Rae Conlon '19 (Shaker Heights, Ohio); midfielders Lauren Milliet '19 (Durango, Colo.), Kelli Sullivan '19 (Sammamish, Wash.), and Madison Tominello '19 (Monument, Colo.); and defender Anna Gregg '19 (Sacramento, Calif.).

"We're going to have a handful of players from different eras of the program, which I believe is great," Bennett said. "The young players are here for a reason, and I think they can help us. The older players can help us on the field, but off the field their expertise and maturity level will help us gel and make us pretty cohesive."

Eligibility is limited to U.S. citizens who are current athletes or recent graduates, born between Jan. 1, 1990, and Dec. 31, 1997.

In addition to its daily training and fitness sessions, CC will play three 'friendlies' against Pride Club teams, including one against the W-League squad on Thursday, June 25.

Colorado College departs for Korea on Sunday, June 28, and plays its first Pool D game against South Africa at Honam University Stadium on Thursday, July 2.

Follow the Tigers on Facebook, Twitter and Instagram using #CCTeamUSA.