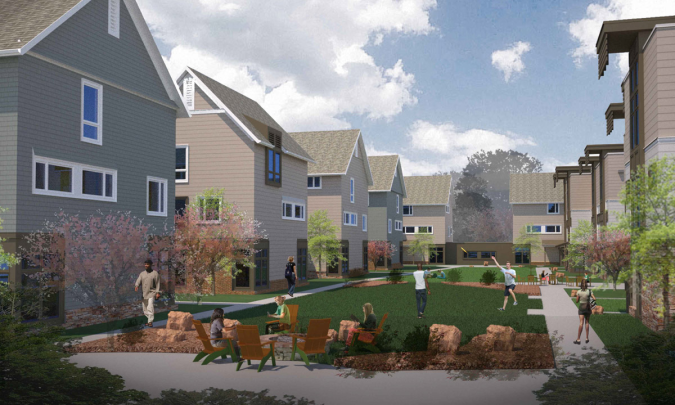 Colorado College will honor eight distinguished former students by bestowing their names on residential buildings in the new East Campus housing community. These individuals - ranging from figure skater Peggy Fleming, to Nobel Laureate James Heckman, to Frederick Roberts, the first African American elected to the California State Legislature - represent a broad array of fields, including academic, art, government, military, and mountaineering.
The East Campus housing community, which will house 154 students in eight residential buildings, is scheduled for completion this summer. The new campus housing development, located on the southeast corner of Nevada Avenue and Uintah Street, will include a community center and a combination of cottages, small houses, and apartments. These residences will face an outdoor common area, helping to promote a sense of neighborhood and community.
The naming dedication will be held during CC's Family and Friends Weekend, Oct. 6-8, 2017.
"Naming the buildings of this new student housing community for distinguished former students highlights the college's rich history and connects today's students to the generations of accomplished alumni who have lived and studied on the Colorado College campus," says Colorado College President Jill Tiefenthaler.
The individuals to be honored represent a broad array of fields, including academic, art, government, military, and mountaineering. In alphabetical order, they are:
Marcellus Chiles, Colorado College's only Medal of Honor recipient, was a student at Colorado College when World War I began. In 1918, four days after being promoted to captain, he oversaw an attack against German forces. Although wounded, Chiles continued to lead his troops, before being evacuated to a hospital where he died two days later.
Marian Williams Clarke was the first Colorado College graduate, and among the first 20 women nationally, to be elected to federal office. From 1933 to 1935, she served as a Republican member of the United States House of Representatives from New York. Clarke also is recognized as one of the first women graduates of the college.


Albert Ellingwood was the college's first Rhodes Scholar, and taught political science at Colorado College from 1914 to 1919. He was an accomplished mountaineer who made first ascents on now classic routes, and is recognized as one of the top mountain climbers in Colorado history.


Peggy Fleming, who dominated women's figure skating from 1966 to 1968, attended Colorado College in the late 1960s. She won five U.S. titles, three world titles, and a gold medal in ladies' singles in the 1968 Olympics in Grenoble, France.


Glenna Goodacre, an internationally recognized artist, is best known for designing the obverse of the Sacagawea dollar and the Vietnam Women's Memorial, which was installed in Washington, D.C., in 1993.


James Heckman, Colorado College's only Nobel laureate, is noted for his contributions to labor economics and the microeconomics of diversity and heterogeneity. His innovations in these areas garnered him the Nobel Prize in Economic Sciences in 2000.


Frederick Roberts is the college's first African American graduate. He was a member of CC's 1905 undefeated football team and, along with teammate Charles Jackson, were the first African Americans to compete in Colorado intercollegiate athletics. In 1918 he became the first African American elected to the California State Legislature.
Ken Salazar is Colorado College's first U.S. senator and first presidential cabinet member. Previously he served two terms as state attorney general. In 2005, he was elected to the U.S. Senate and served until 2009, when President Obama appointed him the 50th United States secretary of the interior.