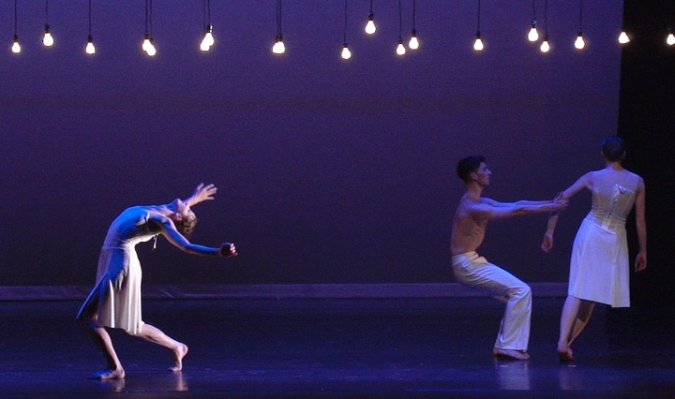 The American College Dance Festival Association has selected Colorado College to represent the Northwest region at the national festival in Washington DC.
Drama and Dance majors Mallory Berge (2012), Adam Dickerson (2013) and Dolo McComb (2012) will be performing Convergence, choreographed by dance faculty and artist in residence Patrizia Herminjard at the John F. Kennedy Center for the Performing Arts in Washington, DC.
During spring break, Patrizia Herminjard and seven students participated in the regional American College Dance Festival in Salt Lake City. Colorado College submitted two dance pieces for adjudication - a student work choreographed by Dolo and Adam and Patrizia's choreography, Convergence, recently presented in the 2012 Faculty Dance Concert. Both dances were selected to be performed in the festival's gala performance at the University of Utah's Kingsbury Hall. National selections were then announced following the regional gala.
The National American College Dance Festival highlights, on the national level, the outstanding quality of choreography and performance that is being created on college and university campuses by bringing together schools from all over the country to perform. Nationally recognized adjudicators at each of the 11 ACDFA regional conferences have selected thirty participating schools. Selections are based on outstanding artistic excellence and merit.
The Festival galas will be performed on May 25, 26 and 27, 2012. Tickets may be purchased through the Kennedy Center website.
Thank you to the dean's office for their support of this extraordinary opportunity for the Drama and Dance department.