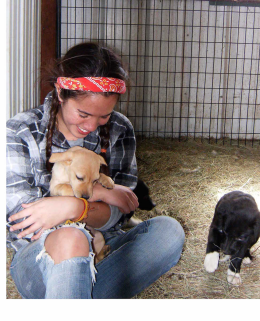 From New Orleans to South Dakota, Colorado College students have fanned out across the region and are spending their spring break doing a wide variety of volunteer work.
Nearly 60 CC students are participating in the five service-oriented trips sponsored by the college's office of outdoor education. The trips, all of which are student-led, are alternative spring break opportunities focusing on community service.
This spring break, CC students are working with the Dalhart Animal Wellness Group and Sanctuary (DAWGS) in Texas; working on the Lakota Reservation in South Dakota; volunteering with Habitat for Humanity in Utah; participating in Hurricane Katrina restoration efforts in Louisiana, and working with the Rocky Mountain Field Institute in Utah. At Colorado College, approximately 80 percent of the students participate in some form of community service during their four years on campus. CC has partnered with many of the participating volunteer agencies in the past.
In addition to the community-service trips, the office of outdoor education is sponsoring five other alternative spring break opportunities centered on the outdoors or outdoor leadership training in Utah, Arizona, and Montana. A total of 55 students and student leaders are participating in those trips.