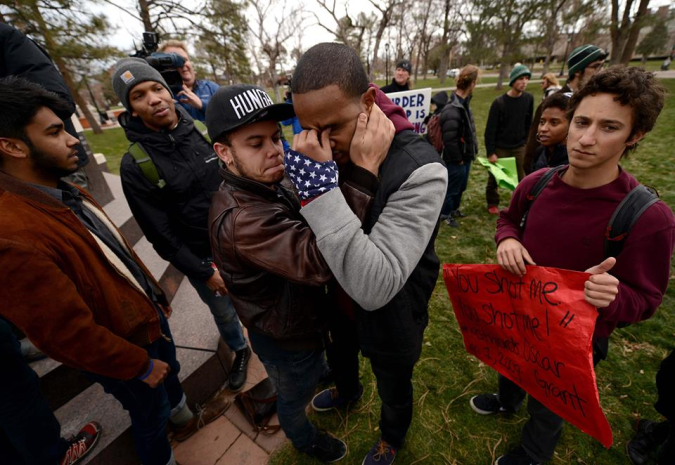 For nearly two hours, Colorado College and downtown Colorado Springs were host to a student-led peaceful protest in reaction to the grand jury decision not to indict Ferguson, Missouri police officer Darren Wilson in the shooting death of 18-year-old Michael Brown. Beginning at midday on Tuesday, Nov. 25, and attended by over 300 people, the protest began on the portion of Cascade Avenue that intersects campus, and included protesters kneeling in the roadway to honor Brown.
Chants, music, and moments of silence punctuated the windswept protest, organized by and composed largely of black-clad students. Members of the college faculty and staff were also present, including English Professor Claire Garcia. Garcia said that she felt "happy that students are taking action."
"I watched the verdict with some of my students, and we stayed for over an hour afterwards," she said. "They were discussing what can we do next, how can we make the world a better place? Honestly, the only bright spot in all of this was my students. I'm so proud of Colorado College and its students, and I have been so impressed with their engagement and sense of agency on this issue."
The protest at Colorado College left campus at approximately 12:25 p.m. and marched down Cascade Avenue toward downtown Colorado Springs. Two Colorado Springs Police officers accompanied the protesters on foot, while others worked to cordon off the streets as the march continued. Returning to campus, students gathered at the Earle flagpole on Worner Quad to continue the protests. Cascade Avenue through campus was reopened at 1:45 p.m.