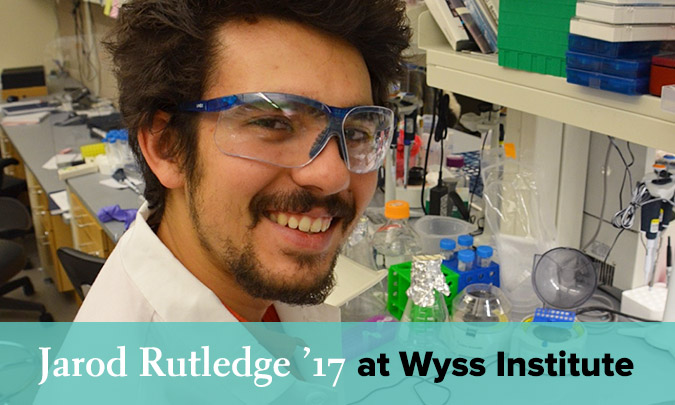 By Madeline Pillari '17
Jarod Rutledge '17, a biochemistry major at Colorado College, currently holds the prestigious title of "visiting graduate student" for the semester at Harvard University. Rutledge initially connected with Harvard through the Amgen Scholars Program, a prized opportunity funded by the Amgen Foundation, an affiliate of the biotechnology company Amgen.
The program enables selected undergraduate students to experience hands-on research. Rutledge spent the past summer in the Amgen Scholar Program at Harvard, where he was fully funded to work at the lab/institute of his choice. He chose the Wyss Institute for Biologically Inspired Engineering, a research institute that Harvard created with the intent of pushing the boundaries of biotechnology research. The Wyss Institute develops a multitude of groundbreaking "bio-inspired technologies," ranging from nanomaterials to technological devices. The lab works to translate its research and findings into commercial products that will fulfill global needs.
Rutledge chose the Wyss Institute because it is a newer institute, but still very prominent in the biomedical sciences. Despite only starting seven years ago, the institute is home to many well-known researchers who are investigating cutting edge technologies. According to Rutledge, "Wyss is Harvard's bid in synthetic biology," the field that Rutledge is most interested in pursuing. There are many medical and technological applications for synthetic biology, from engineering bacteria to cleaning up oil spills, and synthetic biology is a field in which Wyss has produced important research.
During his time at the Wyss Institute, Rutledge has found a mentor in the principal investigator of his lab, Professor Neel Joshi. The lab uses synthetic biology to engineer bacterial biofilms, and then uses this platform to make new materials for various applications from industry to medicine. "This lab focuses on engineering biofilms that e. coli make," Rutledge explains. "We take some biofilm pathways that the e. coli use for their own purposes and we change them on the molecular level through genetic engineering and try to get the e. coli to make interesting materials."
Rutledge is particularly excited about this platform because of his prior experience in researching material science. The summer of his sophomore year, Rutledge went to Chile to perform international research and worked on a material science project for water purification. "I really liked the material science aspect of it, and have been trying to find something that was doing synthetic biology and working with material science," Rutledge says. He has found this synthesis at the Wyss Institute.
The broad goal of Rutledge's research at the Wyss Institute is to develop materials that will help people who have gastrointestinal disorders and the resulting wounds related to gastrointestinal disorders. In terms of treating disorders, this research can be applied to inflammatory bowel diseases such as ulcerative colitis and Crohn's disease. A big problem at the moment with these types of gastrointestinal diseases is that the current surgical treatment measures have very high rates of complication. This is because sutures and stitches do not hold well on tissue in the gut or intestine. The project that Rutledge currently is focusing on is in creating material hydrogels that could act as a bandage in the gastrointestinal tract, lessening complications after surgery and making the healing process easier.
"Right now it's really fulfilling," Rutledge says. "It is exactly what I was looking for when I set out last summer to find a lab to work in, and it has led me into this new field of synthetic biology which I'm really excited about. I plan on staying in this field for graduate school."
To date, the Amgen Scholars Program is hosted at 10 universities in the United States and has donated more than $200 million to local, regional, and international nonprofit organizations.