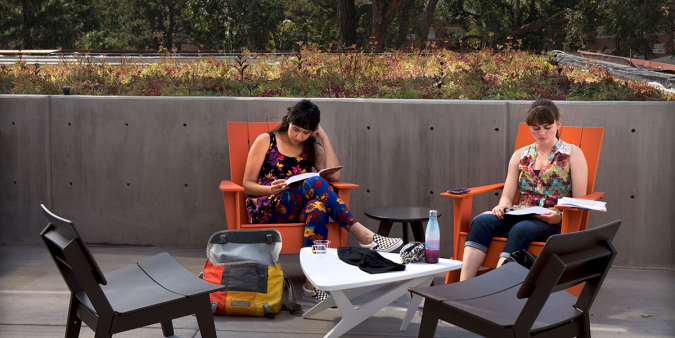 Members of Colorado College's Class of 2021 will be the first class to learn, conduct research, and study in a library built specifically for the college's pioneering Block Plan. The $45 million renovation of Tutt Library makes it the largest academic library to achieve net-zero construction.
The landmark achievement comes in spite of adding approximately 25,000 additional square feet to the building and nearly doubling the seating capacity. The library has been technologically transformed, with a data visualization lab, space for new and emerging technology, a Geospatial Information Systems laboratory, and an experimental classroom equipped with teaching technology.
Appropriately, one of the first classes to be taught in the new library is Colorado College President Jill Tiefenthaler's Economics of Higher Education, which she co-teaches with her husband, Kevin Rask.
The library, constructed in 1962, has advanced audiovisual and technology-centric systems including wireless accessibility meet current and anticipated future demands. Faculty and students are able to access collections and information, and communicate with each other, even while off campus during CC's signature field study and study abroad experiences.
A geothermal energy field on Armstrong Quad, consisting of 80 wells, each 400 feet deep and five and a half inches wide; 115-kilowatt rooftop solar array; 400-kilowatt offsite solar array; green roof-top garden; and 130-kilowatt combined heat and power system are all part of the project. The net-zero energy library recently received one of three 2017 Innovation Awards from the National Association of College and University Business Officers.
"Fifty-five years ago students, faculty and staff stood on this lawn to dedicate CC's new Charles L. Tutt Library," said President Tiefenthaler in a campus-wide celebration following Opening Convocation on Monday, Aug. 28.
At the conclusion of the ceremony, Thayer Tutt Jr., a current CC trustee; Ben Kieklak '18, student trustee; and Dorsa Djalilzadeh '18, president of the CC Student Government Association, joined in the unveiling of the statue of Charles L. Tutt Jr.
The re-opening of the library coincides with the appointment of JoAnn Jacoby, the library's new director, who joined the college in early August. Previously Jacoby served as associate dean for user services in the University of Illinois Library, the largest publicly funded academic library in the U.S.