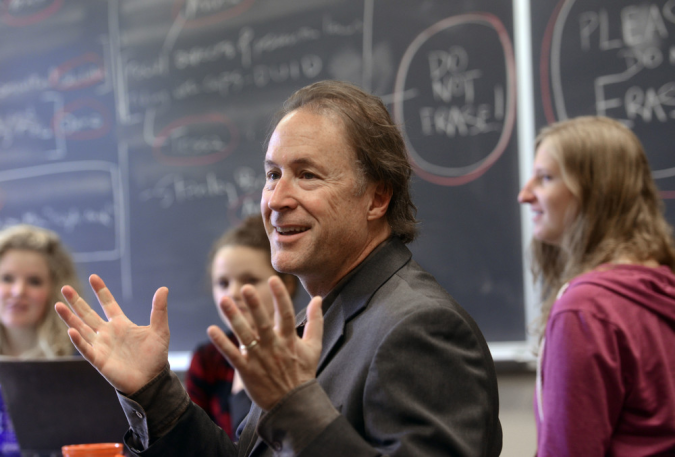 Journalist and New York Times bestselling author Hampton Sides, who serves at the helm of Colorado College's Journalist-in-Residence Program, has a new tribute. His most recent book, "In the Kingdom of Ice," has been selected as an All Pikes Peak Reads book for 2015.
Sides oversees Colorado College's Journalist-in-Residence lecture series, which bring notable writers to campus-and into CC classrooms. He currently is teaching a Block 8 non-fiction writing course titled Going Long: The Art and Craft of Long-form Journalism; he also taught The Art of Fact: Studies in the New Journalism and Narrative Non-fiction during Block 5.
"In the Kingdom of Ice," Sides' fifth major book, is a compulsively readable, white-knuckle tale of polar exploration and survival in the Gilded Age. The 1879-81 Arctic journey, headed by Lt. Commander George De Long, took a team of 32 men deep into uncharted Arctic waters and carried the aspirations of a young America burning to become a world power. "Sides tapped amazing archival material, including diaries, letters, and the ship logs, to render a completely thrilling saga of survival in unbelievably harsh conditions," writes Booklist in a starred review.
All Pikes Peak Reads, sponsored by the Pikes Peak Library District, is a community-wide effort to improve literacy and foster dialogue across social, cultural, and generational lines. The program, which begins in September and extends through the fall season, includes free community events, author visits, children's programs, discussion guides, art exhibits, and more. This year's theme is transformation @ elevation.
Sides is the author of "Ghost Soldiers," winner of the 2002 PEN USA award for nonfiction and the basis for the 2005 film, "The Great Raid"; "Blood and Thunder," an epic western history which was named one of the 10 Best Books of 2006 by Time; "Hellhound on His Trail"; and other works of narrative history and literary non-fiction. His magazine work has been twice nominated for National Magazine Awards for feature writing. He is editor-at-large for Outside magazine and a regular contributor to National Geographic, with the cover story in the upcoming June issue.

CC's Journalist-in-Residence Program is just completing its inaugural year. In addition to the courses Sides teaches, the 2014-15 program also included a radio journalism course taught by Peter Breslow, senior producer of NPR's "Weekend Edition." The program's lecture series, which is free, open to the public, and hugely popular with the Colorado Springs audience, has brought writers such as Kathryn Harrison, S.C. Gwynne, Helen Thorpe, Scott Anderson, and Peter Heller to campus. "It's been a great privilege hosting non-fiction writers of this stature-they're truly masters of their craft," Sides said. "It's been a joy to watch them mix it up with the students in the spirited learning environment made possible by CC's Block Plan."