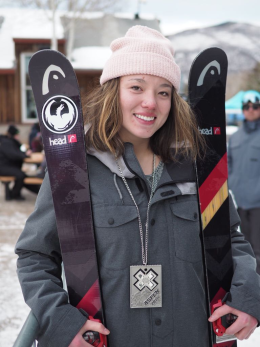 by Laurie Laker '12
Colorado College's Isabel "Izzy" Atkin '21, competing in freestyle skiing for Great Britain's Team GB at this year's 2018 Winter Olympic Games in PyeongChang, South Korea, took home the bronze medal in women's ski slopestyle.
Born in Boston to a Malaysian mother and British father, Atkin's path to Team GB and PyeongChang began at age three at Sugarloaf Mountain in Maine.
"When I was a kid, we'd go to Sugarloaf every weekend," she explains via phone - the day before departing for PyeongChang. "There was a youth ski group program there and once I'd reached a certain level and age, about eight years old or so, I was moved into the advanced groups for both freestyle and racing."
"When the time came to choose between freestyle and racing for competitive skiing, I liked freestyle more - there's more variety there like mogul skiing, aerials, and slopestyle or half-pipe skiing, whereas racing is just going through gates as fast as you can."
With dual citizenship, the choice of which nation to represent at an international level was one she'd be confronted with early in her career,
"I'd been competing on the national circuit in the U.S. for a while, at younger age events. The head coach of GB Park & Pipe knew I had dual citizenship and he was really interested in bringing me into the team from an early age. My dad and I went over to England to visit, and he was very clear about wanting me on the team."
Team GB, far smaller than the U.S. equivalent, "feels like a real family," says Atkin. "I've been on the team since I was 15, so I'm really close with my teammates. It's an individual sport, so we're all very competitive, but also supportive of each other."
Atkin's rise through the ranks of world slopestyle has been the culmination of years of hard work, and her track record speaks for itself. She started competing on the World Cup and U.S. Grand Prix circuit at the age of 15, during the 2013-14 season. During the last four years, across 24 slopestyle competitions. she's placed inside the top 10 in all but one of the events. Over the last three years, her successes have continued to come thick and fast, including a silver medal in slopestyle at the X Games in Aspen, Colorado, this January, as well winning first-place at the Slopestyle World Cup in Silvaplana, Switzerland, when she became the first-ever British woman to win a ski slopestyle World Cup competition. At the 2017 World Championships in Sierra Nevada, Spain, Atkin took home the bronze medal in slopestyle.
Competing at an elite level isn't easy by itself, but when you add in the academic and social commitments of a CC education, it's a near-miraculous balancing act for Atkin.
"I'm still testing out the balance of it all, but I'm only a first-year student after all! I had to take Blocks 3 through 6 off for Olympic training and qualification, but I've really loved my experience so far," says Atkin.
"With my schedule, the Block Plan has been really helpful in taking time off in a way that a semester program just wouldn't allow. Everyone's been really helpful, from administrative staff to my professors, as they know I'm pursuing this at a high level."
Although she hasn't declared a major yet, Atkin is leaning toward the "idea of either math or physics, but I don't want to get too specific yet - mainly because the liberal arts on the Block Plan encourages me to experiment and explore as I go."
Being an Olympian is "a dream come true," says Atkin. "I used to watch the summer and winter games every two years. It really hasn't settled in that I'm going to be there - competing. I don't think it will until I get to Korea, honestly."