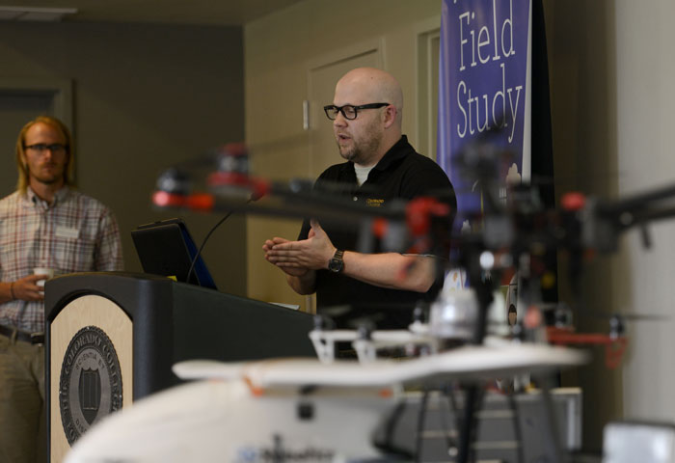 Colorado College's first symposium on field study recently concluded with, appropriately, a field study in which participants were able to experience first-hand what they had discussed the previous two days: the value of working with and learning from the primary source of information.
"Field study allows you to learn things there that you cannot learn in the classroom," said Martin Farrell, a political science professor from Ripon College, as he stood in a meat locker at Ranch Foods Direct, the location of the symposium's final session. "It fosters long-term learning, not memorization. It's a life experience. It's not like cramming for an exam, and then it's gone. It stays with you for the rest of your life."
The Field Study Symposium, held July 9-11, highlighted the variety of field study conducted at Colorado College, various members of the Associated Colleges of the Midwest, and other top liberal arts institutions. This distinct style of learning, its outcomes, and its contribution to students' holistic development are an emerging field, and the symposium, an initiative of CC's strategic plan, provided an opportunity for participants to define - and refine - the practice of teaching and learning in the field.
Fifty-six participants attended the inaugural symposium, which featured nearly 30 presentations and case studies. Presenters from all three disciplines - the humanities, social sciences, and physical sciences - made the case repeatedly: Small classes at liberal arts colleges are uniquely positioned to make use of field study to create high-impact experiential learning opportunities for this generation of learners.
Among the 17 Colorado College presenters was Miro Kummel, an associate professor in the Environmental Program who discussed "Remotely Controlled Aerial Drones (UAVs) as Field Instructional Technology" with Matt Gottfried, director of innovative technology, and Darren Ceckanowicz, technical director. "Field study helps abstract concepts make sense," said Kummel, who uses aerial drones to monitor thermal micro-environments at tree line. "Using someone else's data is not very motivating for students." The advantages of field study are many; students work with a primary resource, it creates a sense of ownership, and it opens new worlds for students, he said.
Kummel, Gottfried, and Ceckanowicz's introduction to the UAV technology gives students direct access to all stages of remote sensing: planning the flight mission, the flight itself, post-flight data processing into 3D struc­tures, and interpretation of the remotely sensed patterns. "There are little research projects built into the larger research project," Kummel said, emphasizing that working with the primary resources and technology allows the students to "own" the project at a level that the pre-canned datasets do not.

Associate Sociology Professor Kathy Giuffre, keynote speaker for the symposium, noted that the Millennial Generation is the first to grow up almost completely under the overwhelming rubric of standardized testing as an educational way of life. Standardization, however, is anathema to innovative thinking and creativity, she said. "Field study provides students with the building blocks of social structures that facilitate creativity and innovation," said Giuffre.
Other CC presenters included:
Dan Johnson, associate professor of economics, "Teaching Innovation in the Field"
Sarah Hautzinger, professor of anthropology, "Story-scribing a Conversation on the Sacred Across Traditions: The Web and Digital Media"
Ryan Hammes, director of outdoor education, "Summit as a Technological Tool for Risk and Information Management for Field Study"
Jennifer Golightly and Beth Scaffidi, Information Technology Services, "Instructional Technology at CC"
Heather Horton, director, Wellness Resource Center, "Student-life Support in the Field: From the Mundane to Crisis- Management"
Tara Misra, sexual assault response coordinator, "Field Study and Title IX Considerations"
Jan Edwards, director, Accessibility Resources, "Common Questions and Helpful Practices Regarding Disability, Accessibility, and Off-campus Study"
Drew Cavin, director, Office of Field Studies, "Risk Management and Institutional Support"
Joan Ericson, professor of Japanese and Jim Matson, visiting professor Asian Studies, "What Did You Learn? Assessing a Study Abroad Experience"
Mark Griffin Smith, professor of economics, "Case Studies on Location: Taking to the Field in Economics"
Smith put his "Taking to the Field in Economics" presentation in action, leading the trip to Ranch Foods Direct, where participants met with entrepreneur and family farm advocate Mike Callicrate. The purpose of the trip, Smith said, was to serve as the basis for a post-visit discussion on a variety of topics, including what background information would you want to give before the trip; how does the space and setting affect participant's ability to focus on the discussion; what other types of speakers and visits would complement the field study; and what type of assignment would you assign after the visit?
"The presentations and the conversations outside the sessions were very stimulating," said Lori Stanley, professor of anthropology at Luther College, who presented "The Ethic of Place and Reciprocity: Luther's Community-based Program in Tanzania." "The information cut across all the disciplines and is applicable to what I'm doing."
The idea for the symposium started with the creation in 2014 of CC's Office of Field Study, which supports the many field-based course offerings at Colorado College. The symposium was funded by a grant from the ACM's Faculty Career Enhancement (FaCE) Program.