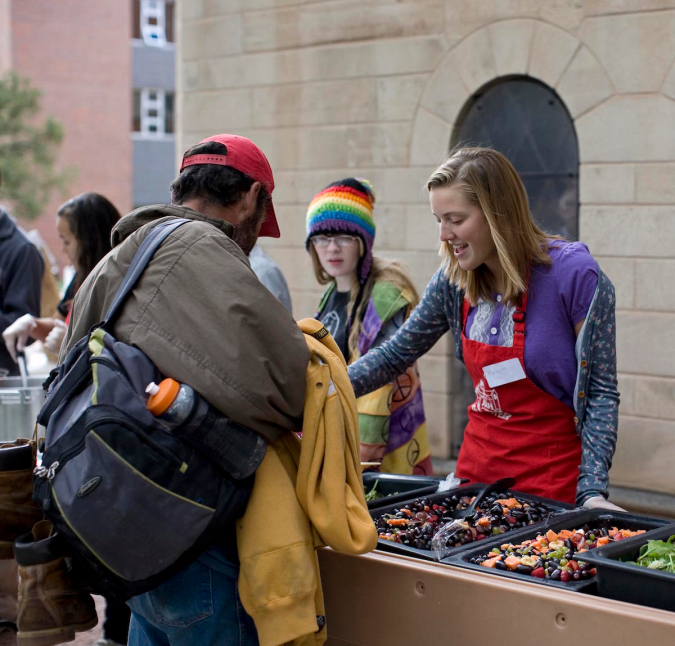 Colorado College's Community Kitchen, one of the oldest student-run community kitchens in the nation, will celebrate its 20th anniversary from noon to 4 p.m., on Sunday, April 15, at Shove Memorial Chapel, 1010 N. Nevada Ave. The meal will be served at 1:30 p.m., and all are invited to join in the meal and the celebration.

Since 1992, the kitchen has provided a hot meal to the city's hungry and homeless 52 Sundays a year, including summer, winter, Thanksgiving, spring, and all block breaks, with students often staying on campus to help operate the kitchen.

The Community Kitchen will commemorate its anniversary with local bands, speakers on homelessness and poverty and a picnic-style meal. Among the speakers will be Bruce Coriell, chaplain at Colorado College, and Becky Manchester Aidlberg '95, who helped found the kitchen when she was a student at CC.

Colin McCarey '12, who started volunteering at the kitchen as a first-year student and currently is one of the three student kitchen managers, said there has been a consistent rise in the number of guests since he started working at the Community Kitchen. Currently, the kitchen serves an average of 200 guests each Sunday.

The Community Kitchen began on Easter Sunday 20 years ago, when a group of concerned CC students, began serving a free hot Sunday meal to the hungry and homeless of Colorado Springs. What began as a small operation dependent upon donations from the college's cafeteria excesses soon grew into a community-supported organization that served an all-time high of 300 meals this summer.

Organizers of Sunday's event are accepting picnic-food donations for the anniversary meal, including hot dog buns, potato chips, potato salad, deviled eggs, baked beans, tomatoes, lettuce and sliced onions for burgers and desserts.