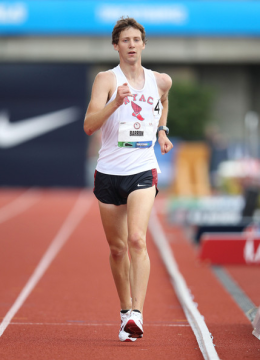 EUGENE, Ore. - In a memorable and simply amazing performance on Saturday, Colorado College's Trevor Barron continued to stamp his mark on the world of race walking.
Not only did Barron, who will start his sophomore year at CC in September, secure a spot on the United States team for the fast approaching Summer Olympic Games in London, but he also obliterated three American records associated with the 20-kilometer event.
Barron, 19, won his Olympic Trials race at Hayward Field in Eugene, Ore., with a clocking of 1:23:00.10, which is 40 seconds faster than the old standard of 1:23:40 for walking 50 laps on a 400-meter oval.
The Bethel Park, Pa., resident also set a new USA standard for 15 kilometers in the process, turning in a split of 1:02:06.57 that shattered the old 15K mark of 1:02.30.2, and totally trashed the former Olympic Trials meet record time of 1:25:40 owned by his own coach, Tim Seaman, since 2004.
The 40-year-old Tim Seaman, himself a two-time Olympian, finished second in Saturday's race. Both he and Barron are based in San Diego, although Barron wore the singlet of the New York Athletic Club at the trials.

He will have his work cut out in London, as no American race walker has won an Olympic Medal since 1972.