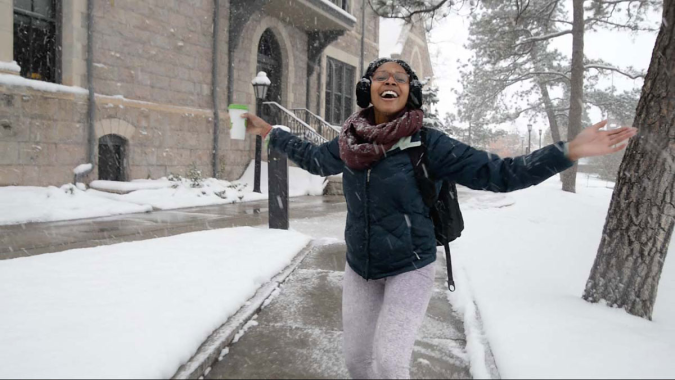 Colorado College students - and alumni - are nothing if not resourceful, and the focus, creativity, and drive they exhibit on the Block Plan continue post-graduation. When Arielle Mari '12, CC's video and digital media specialist, scrapped her idea for the college's holiday video on a Friday afternoon, she dove into a new concept Friday night, gathered video and resources, and had Colorado College's 2015 holiday video ready on Monday. A little tinkering and fine-tuning ("as always," she says) was all that was needed before Mari's fourth CC holiday video was ready.
This year's video, like the others, continues to be different from the ones that precede it. "This one plays off archival film from 1925," Mari said. The promotional footage, taken when CC had an enrollment of 600 students, was used to help raise $365,000 for CC's endowment. Although footage is 90 years old, the images in the film endure.
The memories students and alumni have of CC endure as well. "I love how through the years I've been here, what students and alumni say about CC hasn't really changed," Mari said.
Students talk about friendships they have for the rest of life, their memories, and their inherent connection to CC.
The 2015 holiday video is set to "White Winter Hymnal" by Fleet Foxes, arranged and performed by Room 46, CC's co-ed a cappella group, and features drone cinematography by Robert Mahaffie '15, a film and media studies graduate currently serving as the department's paraprofessional. Thomas Euyang '16 and Esther Chan '16 also assisted with the video.