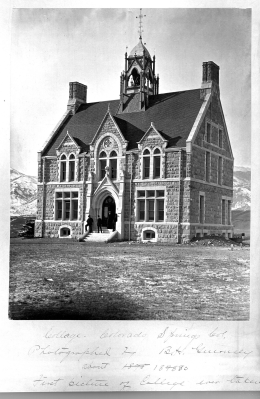 Colorado Preservation, Inc. presented Colorado College with the State Honor Award in recognition of the college's commitment and dedication to historic preservation. The award was presented May 9 at the 28th Annual Dana Crawford and State Honor Awards in Denver. In selecting Colorado College, the organization noted that "the college exemplifies the ideals of historic preservation and preservation leadership and we look forward to celebrating the many projects and renovations taken on over the years."
A video by Colorado Preservation Inc. shown at the ceremony features Colorado College President Jill Tiefenthaler and Campus Planner George Eckhardt, and includes footage of both the old and the new on campus.

"The college has a wonderful history in Colorado Springs and a sense of place is a big part of who we are and always have been," says President Tiefenthaler. She notes that being able to preserve the historic buildings and watch them come to life with students every day both reveres and revises the past. "It helps us to look back to the past and also to the future."
Eckhardt, who has been at Colorado College since 1983, says his philosophical goal is historic preservation with some enhancement; that is, saving historical buildings and properties as well as meeting the needs of the college.
Colorado College currently has 18 buildings on the State and National Registers.