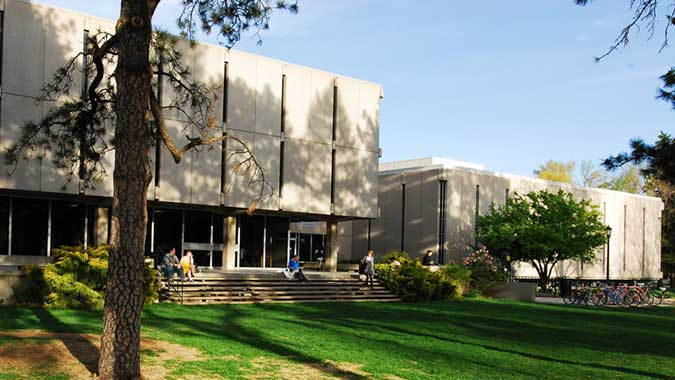 Colorado College has received a $5 million commitment from an anonymous donor to support a renovation of its Tutt Library. The commitment is the largest outright gift to the college from a living individual to-date.
"The timing of this extraordinary and extremely generous commitment could not be better," said Colorado College President Jill Tiefenthaler. "Our library is the intellectual hub of the campus and its renovation will strengthen our ability to accommodate and prepare today's and tomorrow's students who learn on our innovative Block Plan. This significant and greatly improved space will also bring our community together in both structured and unstructured ways."
Plans for the library renovation, which will total $45 million, include doubling the number of seats available for students, allowing more natural light to enter the building, adding a café that includes comfortable work spaces, and housing a new Center for Immersive Learning and Engaged Teaching, a focal place at the college for academic support. In addition, the renovated space will offer technology-equipped seminar rooms, study space, and group collaboration rooms.
"This is an important project for Colorado College because this building will serve so many members of the college community, including all faculty and students, for years to come," said the donor. "A key advantage of the library's transformation will be this space's ability to draw people together not only academically, but socially.
"I hope by making this gift, at this time, that others will be inspired to step forward and support this project."
The library, named for Charles Leaming Tutt, Jr., was built in 1962 and predates Colorado College's Block Plan, which was initiated in 1970.
"The library renovation is an opportunity to design this space specifically for the Block Plan," Tiefenthaler said.
In addition to the Center for Immersive Learning and Engaged Teaching, the library will be home to the Crown Center for Faculty Support, and the Colket Learning Center. The renovation project is in the planning phase and the college is currently exploring proposals from architectural firms.